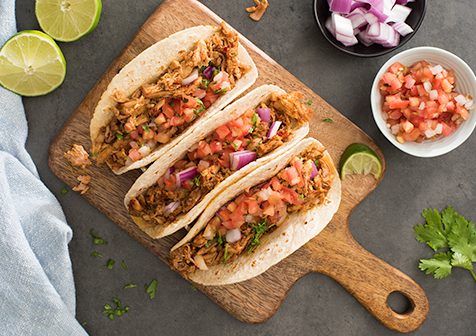 Ingredients
4 dried guajillo chiles, stemmed, seeded and torn
4 dried ancho chiles, stemmed, seeded and torn
2 tsp. extra virgin olive oil, divided
1 medium tomato, chopped
1 medium yellow onion, chopped
3 Tbsp. garlic, chopped
2 tsp. salt
1 tsp.black pepper
2 lbs. Pork Cheek Meat
3 cups water, divided
1 bunch fresh cilantro, chopped (stems and leaves)
1/2 tsp. cumin
1/2 tsp. ground oregano
1/4 tsp. ground cloves
1/4 tsp. dried thyme
1/4 tsp. dried marjoram
1/4 tsp. ground bay leaves
Details
Meal Course:
Dinner, Lunch
Dish Type:
Appetizer, Entrée
Preparation
Heat a large skillet over medium-high heat. Add chiles and cook for about 30 seconds stirring continuously; transfer to a plate.
Add 1 tablespoon olive oil, tomatoes, onion, garlic salt and pepper to skillet; saute until vegetables are browned, about 5 minutes. Transfer to blender along with toasted chiles and 1/2 cup water; puree. Strain mixture through fine-mesh sieve back into the skillet, pressing it through with the back of a spoon.
Add pork cheeks to skillet coating with chile sauce. Cook over medium heat 5 minutes.
Add remaining 2 cups water, cilantro, cumin, oregano, cloves, thyme, marjoram and ground bay leaves to blender; puree and add to skillet.
Bring to a boil; reduce heat and cover tightly. Gently simmer for 1 1/2 to 2 hours or until very tender.
Note: Serve in corn or flour tortillas and top with diced onion, cilantro, lime wedge and salsa.
To order, contact your Smithfield Culinary sales representative, call 888-326-7526 or contact us for more information.
Email Recipe