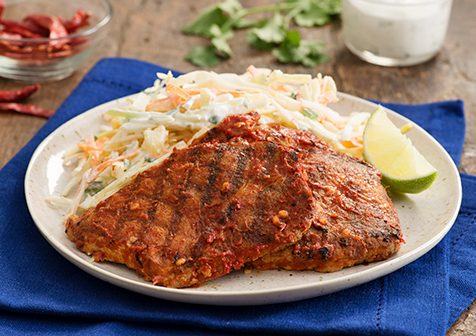 Ingredients
2-6 oz. Boneless Pork Chops
5 guajillo chilies, seeds removed, torn in pieces
2 chili de arbol, seeds removed, torn in pieces
4 garlic cloves, peeled
1/2 cup white vinegar
1/8 cup sugar
1 Tbsp achiote paste
3/4 cup chopped pineapple
2 chipotles in adobo
salt and pepper
2 cups Pineapple-habanero slaw (recipe to follow)
Pineapple-Habanero Slaw:
1 small head cabbage, thinly sliced
Salt and pepper to taste
1 carrot, grated
1 cup mexican crema
2 limes juiced
2 Tbsp. cilantro, chopped
1 habanero, seeded, minced
1 cup diced pineapple
Details
Product:
Pork Chops
Meal Course:
Dinner, Lunch
Dish Type:
Entrée
Preparation
Toast dried chilies in a dry sautee pan for 1 minute to add more flavor. Cover with water and soak for 30 minutes.
In a blender, combine, chilies, garlic, vinegar, sugar, achiote paste, pineapple, and chipotles. Puree until smooth and rub on the pork chops. Marinate overnight if possible.
Remove from marinade and grill until they pork reaches an internal temperature of 145 degrees.
To serve: Slice pork and place on platter. Top with slaw and serve.
Pineapple-Habanero Slaw:
Toss cabbage, carrot, and habanero with salt and pepper and let sit for 10 minutes. Drain in colander to remove excess liquid. Mix crema with lime juice, cilantro, and diced pineapple. Combine with cabbage and refrigerate.
To order, contact your Smithfield Culinary sales representative, call 888-326-7526 or contact us for more information.
Email Recipe