Prosciutto and Grilled Cheese Ciabatta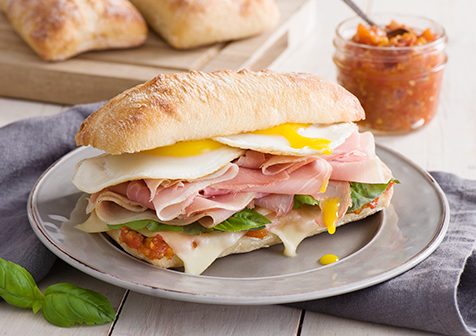 Ingredients
2 Tbsp. Tomato Marmalade (recipe to follow)
2 ciabatta sandwich buns, split
1 Tbsp. butter
2 slices fontina
6 slices Prosciutto
4 basil leaves, whole
2 eggs, fried
Tomato Marmalade:
4 Roma tomatoes, peeled
2 Tbsp. olive oil
2 cloves garlic
1/2 yellow onion, minced
1/4 cup sugar
1 tsp. chili flakes
2 Tbsp. balsamic vinegar
Details
Product:
Prosciutto
Meal Course:
Breakfast
Dish Type:
Entrée
Preparation
To serve: Spoon Tomato Marmalade onto bottoms of ciabatta bread. Top with fontina, basil leaves and prosciutto.
In large nonstick pan, heat butter over medium-high heat until bubbly. Add sandwich halves (bottom half with cheese and prosciutto, and top half) and cook until golden brown and crispy.
Place fried eggs on top of cheese-prosciutto and add top half to sandwich.
Tomato Marmalade:
In sauce pot, heat oil over medium heat. Add yellow onions and cook for 6-8 minutes, or until translucent. Add garlic and cook for 3 more minutes. Reduce heat and add remaining ingredients, cooking for 30 minutes, or until thickened.
To order, contact your Smithfield Culinary sales representative, call 888-326-7526 or contact us for more information.
Email Recipe