Pulled Chicken Chilaquiles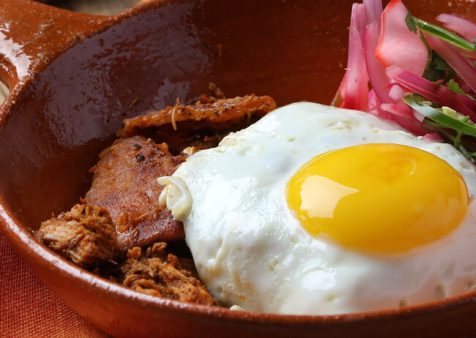 Ingredients
1 cup Guajillo Sauce (recipe to follow)
Totopo Chips (recipe to follow)
Queso fresco,for garnish
Fresh cilantro, for garnish
1 avocado, diced
Pickled Red Onions, for garnish (recipe to follow)
Guajillo Sauce:
1 lb. dried guajillo chiles
4 large tomatoes, chopped
1 large onion, chopped
4 cloves garlic
Salt, to taste
½ cup cumin
1 cup dried chili powder
1 qt. chicken stock
1 large can tomato juice
4 bunches cilantro
Pickled Red Onions:
1 cup red wine vinegar
1 cup water
½ cup salt
¼ cup sugar
1 large red onion, thinly sliced
½ jalapeño, thinly sliced
Ice, as needed
Totopos:
4 tortillas
Cilantro, to taste
Salt, to taste
Lime zest, to taste
Details
Pulled Chicken brands offered: Curly's
Product:
Pulled Chicken
Meal Course:
Breakfast, Lunch
Dish Type:
Entrée
Preparation
Heat chicken in Guajillo Sauce till hot.
Once hot, add small amount, about 1:1 ratio, Totopo Chips to chicken, adding more sauce if necessary.
Cook till hot.
In center of plate, add small amount hot Guajillo Sauce.
Place Chilaquiles mixture on top.
Garnish with queso fresco, cilantro, avocado and Pickled Red Onions.
Guajillo Sauce:
Crisp chiles in skillet over medium heat until skin begins to blister.
Once chiles have been cooked until tender, add to medium sauce pot with chopped tomatoes, onions, garlic and spices and cook until all are soft and tender.
Add chicken stock and simmer for 1 hour.
Add tomato juice and continue cooking until simmering and reduced to thicker consistency.
Once cooked and reduced down, place in blender with cilantro or use immersion blender to blend till smooth.
Let cool.
Pickled Red Onions:
Mix liquids and seasonings and bring to boil in pan.
Drop sliced onions and jalapeños in liquid and turn heat off.
Let sit for 30 minutes and then add ice to cool.
Totopos:
Cut tortillas into triangles.
Fry tortillas at 350°F till crisp.
Toss in salt, chopped cilantro and lime zest.
To order, contact your Smithfield Culinary sales representative, call 888-326-7526 or contact us for more information.
Email Recipe