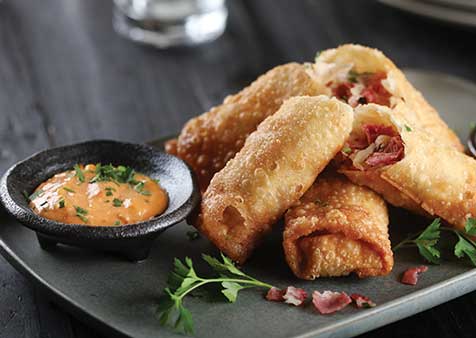 Ingredients
1 lb Corned Beef
4 oz  Bacon, chopped
1 cup short julienned onions
1.5 lb sauerkraut, drained
12 oz shredded Swiss cheese
12 egg roll wrappers
1 to 2 egg whites
2 Tbsp cornstarch
1 qt hot fryer oil
Hot Chinese Mustard, recipe follows
12 oz 1000 Island Dressing
4 to 6 sprigs parsley, for garnish
Hot Chinese Mustard:
1/4 cup yellow mustard
1/4 cup Chinese mustard
Details
Product:
Bacon, Corned Beef
Meal Course:
Dinner, Lunch
Dish Type:
Appetizer
Preparation
Trim and chop corned beef into 1/4-inch diced, minced fine.
Render bacon, and sauté onions with bacon until golden; add sauerkraut, and cook until combined. Cool thoroughly.
Mix corned beef with sauerkraut and cheese.
Lay out egg roll wrappers; brush sides and tops with egg whites.
Add 1/3 cup filling at base, fold over, fold in sides, and then roll to close.
Store lightly dusted with cornstarch.
Deep-fry until crisp, and serve with Hot Chinese Mustard and 1000 Island Dressing. Garnish with parsley.
For Hot Chinese Mustard, mix yellow mustard and Chinese mustard together for dip.
To order, contact your Smithfield Culinary sales representative, call 888-326-7526 or contact us for more information.
Email Recipe