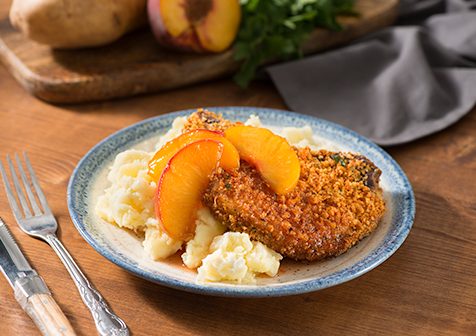 Ingredients
4 medium, peeled Idaho potatoes
½ cup heavy cream
8 oz. butter
½ cup Asiago cheese, shredded
3 ripe peaches
3 oz. maple syrup
2 oz. brandy
4 oz. Dijon mustard
Shake 'n Bake Spices
2 basil leaves, dry
2 tsp. garlic powder
2 tsp. onion powder
2 tsp. oregano, dry
2 tsp. parsley, dry
½ tsp. cayenne pepper
4 tsp. Kosher salt
2 Tbsp. paprika
4 tsp. sugar
2 cups Panko
Details
Product:
Pork Chops
Meal Course:
Dinner
Dish Type:
Entrée
Preparation
Combine Shake 'n Bake spices in a bag.
Coat each chop with Dijon mustard and shake in bag until coated with spices.
Place chops on a baking sheet. Bake at 375° F. for 25 minutes or until medium.
Fill a medium sauce pot ¾ full of water and bring to a boil.
Cut potatoes in half before adding to boiling water. Boil for 20-25 minutes or until tender. Strain out water and add cream, butter, and Asiago and mash until creamy.
In a medium sauce pan, heat two tablespoons of butter.
Halve the peaches, remove pit & slice them. Add to pan and cook for 3 minutes.
Add Brandy to pan and cook for 1 minute to reduce. Add maple syrup.
Divide pork chop and mashed potatoes among six plates. Add peaches and sauce on top of pork chops.
To order, contact your Smithfield Culinary sales representative, call 888-326-7526 or contact us for more information.
Email Recipe