Shoulder Bacon Grilled Cheese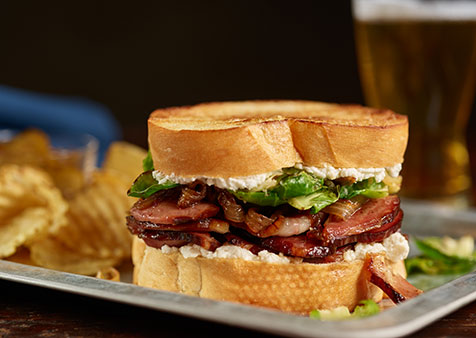 Ingredients
2 large onions, finely chopped
½ cup brown sugar
½ cup red wine vinegar
¼ Tbsp. chili powder
Dash of cayenne pepper
Splash of coffee
Salt and pepper, to taste
¼ cup Brussels sprouts, de-stemmed and halved
3 oz. ricotta
2 slices Italian bread, sliced on the bias
2 pats salted butter
Details
Product:
Bacon
Meal Course:
Dinner, Lunch
Dish Type:
Entrée, Sandwich
Preparation
Cook shoulder bacon in medium sauté pan until browned, but not crispy. Remove cooked shoulder bacon and keep warm, leaving at least 2 tablespoons bacon grease in pan; set aside remaining bacon grease.
Add onions and sauté until caramelized; stir in brown sugar. Add vinegar, chili powder, cayenne pepper, coffee, salt and pepper; cook on low for about 45 minutes until a thick jam forms. Remove from heat and set aside.
Add reserved bacon grease to different hot pan and add Brussels sprouts, searing both sides, lower heat, and cover. Once seared and tender in the middle, set aside.
To assemble: add half the ricotta to one side of the bread and top with shoulder bacon, desired onion mixture and Brussels sprouts. Add remaining ricotta to the other slice of bread and close the sandwich. Butter the exterior sides of bread and set aside.
In medium-sized frying pan, add buttered sandwich and let cook for a few minutes until golden brown on the outside and cheese is melted in the middle.
To order, contact your Smithfield Culinary sales representative, call 888-326-7526 or contact us for more information.
Email Recipe