Shoulder Bacon Monte Cristo Waffle Sandwich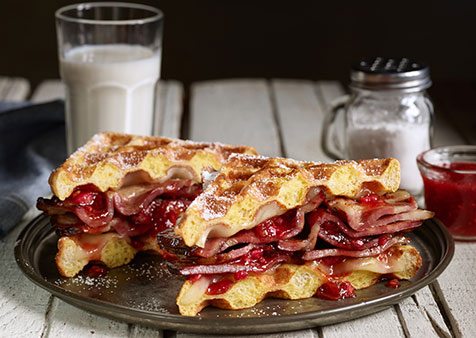 Ingredients
2 large eggs
¼ cup milk
Pinch nutmeg
4 slices thick soft white bread (Texas Toast)
4 slices Swiss cheese
2 Tbsp. raspberry jam
2 Tbsp. melted butter
2 Tbsp. powdered sugar
Details
Product:
Bacon
Meal Course:
Breakfast, Dinner, Lunch
Dish Type:
Entrée, Sandwich
Preparation
Whisk together eggs, milk and nutmeg.
Dip bread slices in egg mixture; then place in waffle iron and cook until browned.
Layer sandwich with bacon and jam in between two slices of Swiss.
Place sandwich in 300°F oven until cheese melts.
Serve topped with melted butter and sprinkled with powdered sugar.
To order, contact your Smithfield Culinary sales representative, call 888-326-7526 or contact us for more information.
Email Recipe