Smoked Brisket and 5-Cheese Beer Mac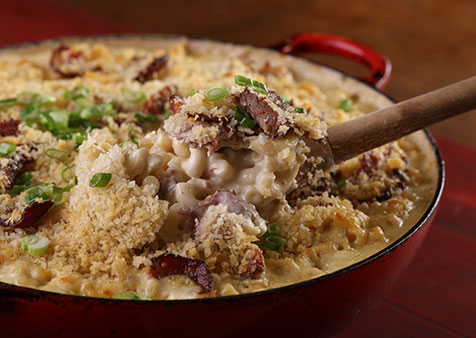 Ingredients
8 oz local amber lager
1 qt heavy cream
2 cups whole milk
1 cup shredded grated Parmesan
1 cup shredded pepper Jack cheese
1 cup shredded sharp cheddar cheese
1 cup shredded smoked Gouda cheese
1 cup shredded Monterrey Jack cheese
1 Tbsp Tabasco®
1 lb Curly's by Smithfield® Smoked Whole Beef Brisket, divided
Salt and pepper, to taste
Pasta:
Water, as needed
1 tsp oil
½ tsp salt
1 lb elbow macaroni
1 Tbsp unsalted butter
½ cup panko breadcrumbs
¼ cup bias-cut green onions

Details
Product:
Brisket
Meal Course:
Dinner, Lunch
Dish Type:
Entrée, Side Dish
Preparation
Preheat oven to 350°F.
Heat medium saucepan over medium heat, add amber lager, and reduce by half.
Stir in heavy cream and whole milk; allow to simmer. (Do not boil.)
Fold in each cheese one by one until fully incorporated. (Save a little cheese to sprinkle on top before baking.)
Add Tabasco®.
Reduce heat to low, and allow to simmer. Add half the brisket.
For Pasta Preparation, fill medium saucepan with water, teaspoon oil and ½ teaspoon salt. Bring to full rolling boil on high heat. Add elbow macaroni. Stir while returning to brisk boil, and then simmer for 3-5 minutes or until pasta is tender. Strain pasta in colander, and shock pasta with ice and cold water.
Grease 12″ cast iron skillet with unsalted butter.
Add pasta, and pour cheese sauce over top. Mix pasta and cheese sauce thoroughly.
Top with breadcrumbs and other half of brisket. Sprinkle reserved cheese mixture on top, and place in oven to bake.
Bake for 15 minutes. (The top should be golden brown and the cheese melty.) Top with green onions and serve.
To order, contact your Smithfield Culinary sales representative, call 888-326-7526 or contact us for more information.
Email Recipe