Soy Ginger Glazed Boneless Pork Chops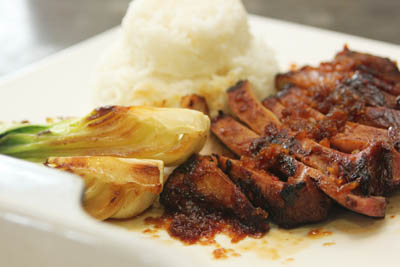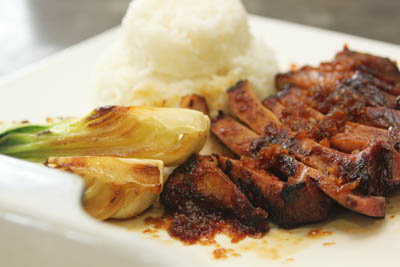 Ingredients
Soy Ginger Glaze
1 tbsp. canola oil
1/4 cup fresh grated ginger
1/4 cup minced garlic
1/4 cup sambal chili paste
2 1/2 cups low sodium soy sauce
1/2 cup barley malt syrup or agave syrup
1 cup honey
1/2 cup minced scallions
Farmland by Smithfield® Boneless Ham-Eye Pork Chops
1 pinch Kosher salt & pepper mix on each side
1 tbsp. canola oil
1 – 1 1/2 cups Soy-Ginger Glaze (recipe below)
12 cups steamed jasmine rice
16 pieces seared & roasted baby bok choy
Sesame Oil & Salt to taste
Details
Product:
Pork Chops
Meal Course:
Dinner, Lunch
Dish Type:
Entrée
Preparation

Soy Ginger Glaze: Sweat ginger and garlic with canola oil. Add Sambal, soy sauce, barley malt, honey and scallions and bring to a simmer. Blend with burr mixer. Chill to 40 degrees.
First pinch salt & pepper lightly on Farmland® Boneless Ham-Eye Pork Chops. Rub approximately 1 tbsp. of glaze on each chop. Sear in a hot, heavy bottom skillet on both sides before applying more Soy-Ginger glaze. Continue to sear to a brown and black at edges color. Finish with more glaze and place in hot oven to finish cooking for an extra 4 to 5 minutes as needed. Serve with steamed rice seared & seared roasted baby bok choy. Drizzle Soy-Ginger Glaze over each chop and on plate. To cook bok choy, cut baby bok choy with stem in halves or quarters. Season with sesame oil & salt and sear with canola oil and place in low oven till tender, approximately 15 minutes.
To order, contact your Smithfield Culinary sales representative, call 888-326-7526 or contact us for more information.
Email Recipe