Spiced Pulled Chicken in Corn Cake with Roasted Jalapeño Sour Cream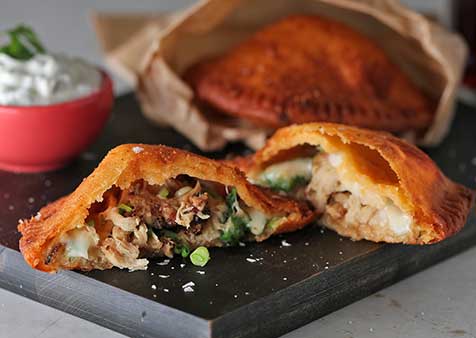 Ingredients
2 cups corn flour
1 cup whole milk
1 cup grated provolone cheese
2 tsp. ground cumin
1 Tbsp. sweet paprika
2 tsp. ground fennel seed
Pinch salt
5 green onions, chopped
1 bunch cilantro, stems chopped and sprigs for garnish
5 jalapeños
2 cups sour cream
5 limes, juiced
Details
Product:
Pulled Chicken
Meal Course:
Dinner, Lunch
Dish Type:
Appetizer, Side Dish
Preparation
For corn cakes, combine corn flour, milk, cheese, spices and salt. Mix until well combined. Let sit for 20 minutes and then make 4 thin rectangles of dough.
Season chicken, if needed, and then place into center of 2 rectangles along with scallions and chopped cilantro stems. Place other 2 rectangles on top and press to make 2 cakes.
Char jalapeños over open flame, add to bowl and cover. Let sit 5 minutes. Remove skin and finely chop flesh and seeds. Add this to sour cream with limejuice and salt.
Fry corn cakes in deep fryer until crispy and brown. Remove and pat dry.
Serve with jalapeño sour cream and a few sprigs of cilantro.
To order, contact your Smithfield Culinary sales representative, call 888-326-7526 or contact us for more information.
Email Recipe