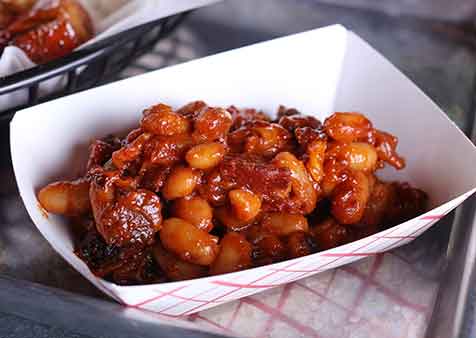 Ingredients
1 large onion, chopped
3 garlic cloves, minced
½ cup beef broth
18 oz. smoky BBQ sauce
½ cup packed brown sugar
¼ cup yellow mustard
¼ cup tomato puree
3 25-oz. cans navy beans, drained and rinsed
Salt and pepper, to taste
Details
Product:
Bacon
Meal Course:
Dinner
Dish Type:
Appetizer, Side Dish
Preparation
Preheat oven to 350°F.
Preheat large Dutch oven over medium-high heat. Slice bacon into 1-inch strips, and cook over medium-high heat until it's all cooked through and crispy. Remove bacon to plate lined with paper towels. Drain off fat, but return ¼ cup of it to pan.
Add chopped onions and garlic, and sauté until soft and slightly translucent.
Once onions are cooked, pour in beef broth and scrape up all brown bits from bottom of pan.
Add BBQ sauce, brown sugar, yellow mustard and tomato puree. Mix until everything comes together and is fully coated. Then add beans to fully coat.
Return bacon pieces to Dutch oven, and stir until combined with beans.
Cover Dutch oven, and place it in preheated oven. Bake for 45 minutes until it's bubbly.
Taste for salt and pepper, and serve.
To order, contact your Smithfield Culinary sales representative, call 888-326-7526 or contact us for more information.
Email Recipe