Vietnamese Breakfast Rice Bowl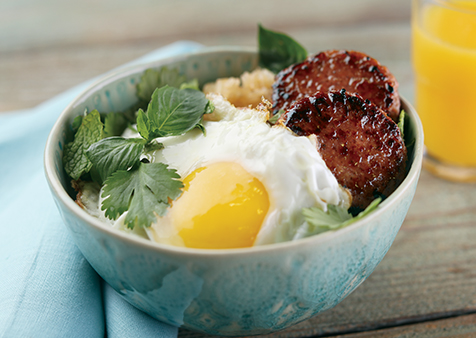 Ingredients
Ingredients:
3 cups sweet rice
1 tsp salt
2 Tbsp sugar
2½ Tbsp soy sauce
1 Tbsp hoisin
½ Tbsp Sriracha
¼ tsp black pepper
8 Smithfield™ Breakfast Patties
1 tsp vegetable oil
1 Tbsp ginger
4 green onions
4 eggs
1 bunch of Thai basil, chiffonade
1 bunch of mint, chiffonade
1 bunch of cilantro, roughly chopped
Details
Meal Course:
Dinner, Lunch
Dish Type:
Entrée
Preparation
Rinse rice until water runs clear.
Put rice in steamer, and steam for 15 minutes with lid on.
After 15 minutes, lightly toss rice with salt.
Mix together sugar, soy sauce, hoisin, Sriracha and pepper in small bowl, and set aside.
Sauté patties in vegetable oil. When they're seared on both sides, remove from pan. Add ginger and green onions, and quickly sauté to open up the fragrance, 1 minute maximum.
Combine rice with ginger-onion mixture and soy mixture.
In separate sauté pan, fry each egg sunny-side up.
Place rice in 4 separate bowls, top with patties, basil, mint and cilantro.
Top each bowl with 1 fried egg.
To order, contact your Smithfield Culinary sales representative, call 888-326-7526 or contact us for more information.
Email Recipe