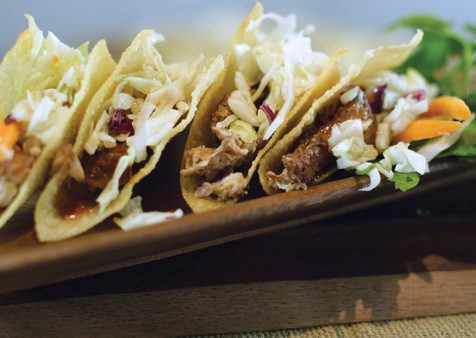 Ingredients
3 Tbsp. teriyaki sauce
2 Tbsp. Asian vinaigrette (see below)
2 tsp. sesame oil
16 wonton wrappers
1 lb. coleslaw mix
1 small red onion, thinly sliced
2 small green peppers, thinly sliced
2 Tbsp. chopped cilantro
Asian Vinaigrette
1 Tbsp. soy sauce
1 Tbsp. lemon juice
1 Tbsp. vegetable oil
3 tsp. white vinegar
3 tsp. brown sugar
2 tsp. Asian sesame oil
1 tsp. sesame seeds
1/2 tsp. ground ginger
1/2 tsp. black pepper
Details
Product:
Smoke'NFast Pulled Pork
Meal Course:
Lunch
Dish Type:
Appetizer, Entrée, Sandwich
Preparation
Combine Asian vinaigrette ingredients; mix well and set aside.
Combine smoked pulled pork with teriyaki sauce, 2 Tbsp. Asian vinaigrette and 2 tsp. sesame oil. Heat to 140° F. Keep warm.
Place wonton wrappers from corner to corner in taco shell maker. Deep-fry at 350° until golden brown.
Combine coleslaw, red onions, green peppers and cilantro with remaining Asian Vinaigrette.
Place 1 oz. pork in each wonton shell. Top with 0.5oz. coleslaw mix and serve.
To order, contact your Smithfield Culinary sales representative, call 888-326-7526 or contact us for more information.
Email Recipe