Ethnic-inspired breakfast dishes are growing in popularity no matter where you look. Both urban and suburban locations are featuring applications and spices that borrow from culinary favorites worldwide.
Millennials, most who consider themselves foodies, are leading the charge and influencing how establishments design their menus. They seek dining experiences that provide them with innovative and unique dishes they don't experience at home, yet aren't so unfamiliar from the norm to be intimidating.
* Mintel Report, Innovation on the Menu, Sept. 2017
Smithfield Culinary identified several popular worldwide areas with flavors that are becoming popular on menus across America.
Click on each for insights and ideas on how you can effectively incorporate them into your breakfast menus.
Emerging Ethnic Inspirations:

South American
Butifarra
The plantain has increased 7.7% on US menus in dishes such as breakfast omelets and burritos. They can also be used instead as a bun for sandwiches.

Datassential, Menu Trends, 2017
Empanadas have had an increase on the menu of 24% over 4 years. They can be stuffed with pork, chicken or beef.

Datassential, Menu Trends, 2017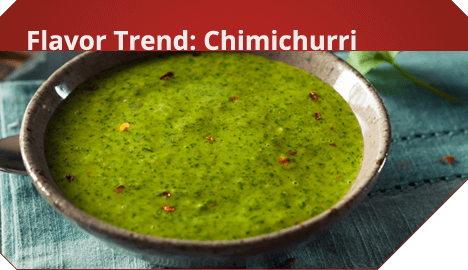 A South-of-the-border red or green uncooked sauce used primarily for grilled meats. Its flavor differs depending on country of origin. Perfect to spice up omelets.
Mexican
Mexican Breakfast Torta
Mexican flavor profiles/ingredients are ubiquitous in the menu adoption cycle, having been established a popular presence on breakfast menus in restaurants.

Datassential, Menu Trends, 2017
The influence of Mexican dishes is apparent by the growth of their ingredients. Peppers in breakfast/brunch dishes are up 18%; beans are up 46%.

Mintel, Restaurant Breakfast and Brunch Trends, July 2016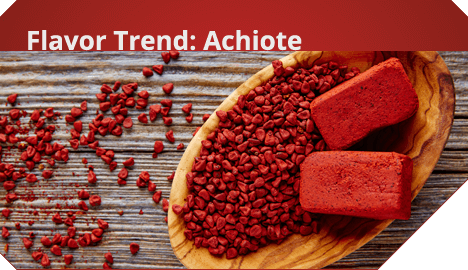 A slightly nutty, sweet and peppery Mexican spice from the seeds of the achiote tree. At the inception stage, it is used most commonly in Mexican pork and chicken dishes.
Indian
Pork Belly over Chickpea Stew and Rice
Chutney is popular within pork breakfasts, such as sandwiches, pancakes and egg dishes. Chutney is on 6.8% of U.S. menus and has grown 9.4% over the last year.

Datassential, Breakfast Flavors, 2017
The kebab is up 85% and Curry is up 92% on menus. Chefs are featuring more Indian spices in familiar dishes, creating unique hybrid signature flavors.

Mintel Report-Innovation on the Menu, Sept. 2017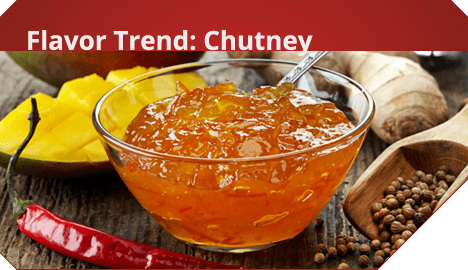 The name for an Indian sauce of diverse flavorings, from tomato relish, ground peanut garnish, yogurt and mint dip and many more. Add to breakfast bowls.
Korean
Seared Pork Belly Breakfast Bowl
Korean as a menu item has increased 10% in one year, partly because 60% of international food eaters seek out food that is hot or spicy.

Mintel Report, Innovation on the Menu, Sept 2017
Kimchi, a traditional Korean side dish made from fermented vegetables has had a 92% increase in menu penetration over 4 years, including at breakfast.

Datassential MenuTrends, 2017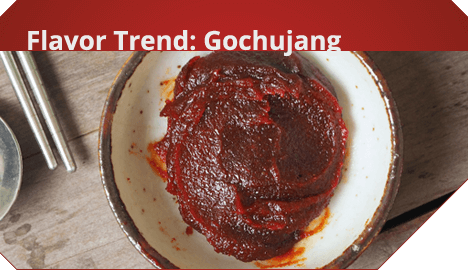 A sweet and spicy fermented Korean hot sauce often used as a marinade on roast meat or fish and as a flavorful condiment. Adds a zing to breakfast burritos.
Eastern
Mediterranean
Cumin-Spiced Pork Chop with Turkish Poached Eggs
The Mediterranean diet is perceived as a healthful choice due to the fact that it's rich in natural Omega-3 fatty acids, which corresponds with today's emphasis on wholesome foods. Today, Middle Eastern cuisine has a consumption rate of 58%.

Mintel, Innovation on the Menu, Sept 2017
Harissa (red pepper paste) is up 74% on menus over 4 years, after being introduced into dishes such as breakfast sandwiches and egg dishes.

Datassential MenuTrends, 2017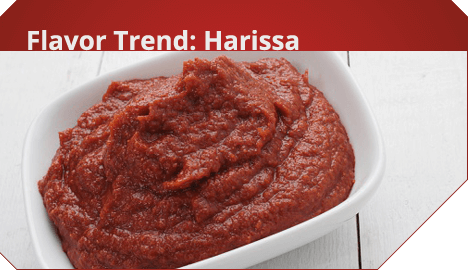 A Middle Eastern hot chili pepper paste adds a zingy spiciness to any breakfast dish.
For more Global Breakfast recipe inspiration and menu concepts to help boost your breakfast business, visit our recipe page.
For questions about our products, call a sales representative at 1.888.327.6526.