Traditional comfort foods that are revamped with a modern flair are increasing in popularity.1
When it comes to most foods, a simple twist on an old favorite can turn heads and build traffic. And that's why chefs today are starting with comfort food classics and going innovative by adding unique seasonings and unexpected ingredients.

While people still crave traditional comfort foods — typically higher in calories and considered "guilty pleasures" — they are also willing to try them with revamped flavors and high-trend or healthier ingredients.2
That's why many restaurants today are offering LTOs or new menu items with the kind of twists that turn heads. Consider:

Max & Erma's BBQ Pulled Pork Mac & Cheese

Ruby Diner's Maple Bacon Shake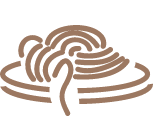 First Watch's Carbonara Benedict
---
Ordinary to Extraordinary
Below are some suggestions for transforming a classic comfort food into something a touch more unique.
| Ordinary | Extraordinary |
| --- | --- |
| Pork Butt | Marinade in dark beer/ale |
| Pork Ribs | Add jerk sauce |
| Ham | Smother with pineapple, bourbon or cherry |
| Pork Loin | Marinade in orange juice or wrap in bacon |
| Brisket | Serve with kimchi to make Korean/Mexican tacos |
| Pot Roast | Make into a shawarma with tahini and Mediterranean spices |
| Corned Beef | Prepare as an egg roll appetizer |

1-2 Technomic