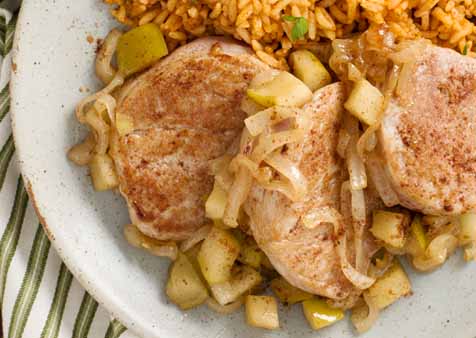 Ingredients
1 1/2 oz. sliced onions
1/4 teaspoon minced garlic
3 oz. chopped apple (skin on)
2 oz.apple cider or apple juice
3 (2-oz.) slices Apple Cinnamon Pork Loin
Ground cinnamon
2 tablespoons butter
4 oz. prepared rice pilaf, heated
Details
Product:
Pork Loin
Meal Course:
Dinner
Dish Type:
Entrée
Preparation
Sauté onion and garlic in butter in skillet until tender and browned. Add apple and cider to skillet; sauté 2 minutes.
Place pork loin slices in skillet with apples and onions. Continue cooking until heated through.
Arrange pork slices over rice pilaf. Top with apple/onion mixture. Garnish with sprinkle of cinnamon.
Email Recipe