Pork Loin Breakfast Sandwich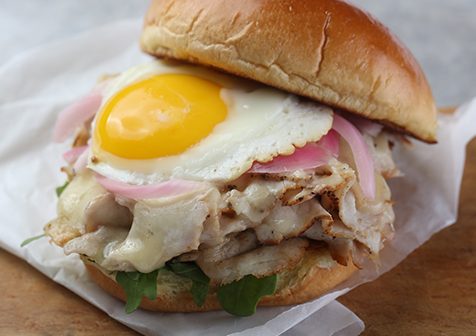 Ingredients
Peach-Jalapeno Mustard:
½ cup grilled peach, diced
1 Tbsp. roasted jalapeno, skin and seeds removed
2 Tbsp. dijon mustard
2 Tbsp. whole grain mustard
Pickled Red Onion:
1 ¾ cups distilled vinegar
¾ cups water
½ cup sugar
1 Tbsp. pickling spice
1 red onion, sliced thinly
4ea Brioche buns, toasted:
4 oz fontina cheese, sliced
½ cup Peach-Jalapeno mustard
½ cup pickled red onion
2 cups arugula
4 eggs, cooked sunny side up
Details
Product:
Pork Loin
Meal Course:
Breakfast
Dish Type:
Entrée
Preparation
Peach-Jalapeno Mustard:
1. Cut peaches in half and grill.
2. Roast jalapeno over open flame until charred.
3. In food processor, process the peach and jalapeno together.
4. Add mustards to the puree and stir to combine.
Pickled Red Onion:
1. Add all ingredients to a small pot except onions and bring to a boil.
2. Remove from heat and pour over onions. Allow to cool.
To serve:
1. Spread mustard on bottoms of each bun. Place pork loin on buns and top with Fontina. Place under a broiler to melt cheese.
2. Top sandwich with with pickled onions, arugula, and eggs.
To order, contact your Smithfield Culinary sales representative, call 888-326-7526 or contact us for more information.
Email Recipe