Breakfast Sausage and Pork Loin Muffin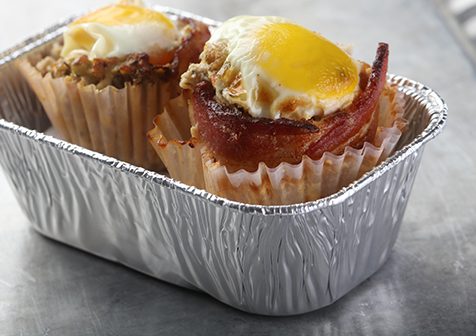 Ingredients
1 Tablespoon olive oil
1/3 C. carrot, small diced
1/3 C. celery, small diced
1/3 C shallot, minced
2 each garlic cloves, minced
12 oz Pork Loin medium diced and marinated with 1/2 C. olive oil, 2 Tbs Italian seasoning and 1 Tablespoon salt
12 oz Breakfast Sausage
1/2 C. olives, minced
2 Tablespoons Dijon mustard
1/2 teaspoon salt
1/2 teaspoon pepper
2/3 C. quick cooking rolled oats
2 Tablespoons red wine vinegar
1 Tablespoon Italian seasoning
4 each egg
4 each Bacon slices
Details
Product:
Bacon, Breakfast Sausage, Pork Loin
Meal Course:
Breakfast
Dish Type:
Entrée, Sandwich
Preparation
Heat the olive oil
Sweat the carrot, celery, shallot, olives and garlic, set aside.
In a food processor, pulse together the pork loin, ground sausage, sweated vegetables, olives, mustard, salt, pepper, oats, vinegar, and Italian seasoning.
Line jumbo muffin tins with muffin papers and line the muffing papers on the inside with 1 slice Smithfield Culinary bacon
Divide the meat equally among the 4 muffin tins
Make an indent in the center of each meat muffin and place a whole egg in the center
Bake at 350 degrees until the egg is cooked and internal temperature reaches 16o degrees
To order, contact your Smithfield Culinary sales representative, call 888-326-7526 or contact us for more information.
Email Recipe