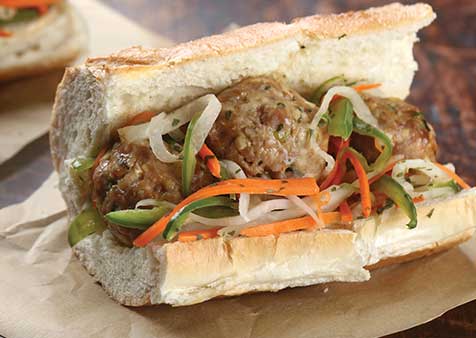 Ingredients
Spicy Mayo:
2⁄3 cup mayonnaise
1 Tbsp Sriracha
Meatballs:
1/4 cup finely chopped basil
4 garlic cloves, minced
4 scallions, finely chopped
1 Tbsp fish sauce
1 Tbsp Sriracha
1 Tbsp sugar
2 tsp cornstarch
1 tsp kosher salt
1 tsp ground black pepper
1 Tbsp vegetable oil
Sandwiches:
2 cups shredded carrots
2 cups shredded daikon radish
1/4 cup rice vinegar
1/4 cup sugar
1 tsp kosher salt
4 8"-10" baguette pieces
jalapeños, sliced, to taste
cilantro, fresh, to taste
Details
Product:
Pork Butt, Pork Shoulder
Meal Course:
Dinner, Lunch
Dish Type:
Entrée, Sandwich
Preparation
For Spicy Mayo, stir both ingredients together and set aside in fridge.
For Meatballs, cut pork shoulder/butt into 1-inch cubes, and reserve in freezer until just partially frozen, about 30 minutes.
Grind pork with 1⁄8 inch meat grinder die. Place ground pork in large mixing bowl.
Gently combine pork with basil, garlic, scallions, fish sauce, Sriracha, sugar, cornstarch, salt and pepper.
Using about 1 tablespoon meat for each meatball, shape meatballs, and reserve on a plate or plastic-lined baking tray.
Heat vegetable oil in large skillet over medium-high heat and add meatballs. Cook, turning frequently, until browned on all sides and cooked through.
For Sandwiches, combine carrots, daikon, rice vinegar, sugar and salt. Set aside pickle for 1 hour; then drain.
Cut each baguette in half lengthwise, but don't cut all the way through, leaving a "hinge" on one end. Spread Spicy Mayo on inside of each piece of bread. Stuff each sandwich with 1⁄4 of the Meatballs, 1⁄4 of the pickled carrot and daikon, and sliced jalapeños and cilantro.
To order, contact your Smithfield Culinary sales representative, call 888-326-7526 or contact us for more information.
Email Recipe