Pork Wings in Thai Chili Crust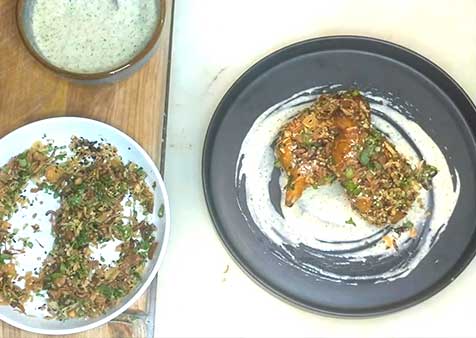 Ingredients
2 cup tempura mix, plus more for dry coating
1 egg
1 Tbsp turmeric powder
1 ½ cups ice water
Kosher salt, to taste
4 Pork Wings
1 cup honey
3 cups Thai chile crust (recipe below)
1 cup coconut white barbecue (recipe below)
Coconut White BBQ:
1 cup mayonnaise
¼ cup coconut milk
1 Tbsp honey
½ Tbsp seasoned rice wine vinegar
2 cloves garlic, minced
2 tsp black pepper, whole
2 tsp Szechuan pepper, whole
4 garlic cloves, whole
¼ bunch cilantro, finely sliced
Fish sauce, to taste
Thai Chile Crust:
4 dried Thai chiles, toasted and finely chopped
1 stalk lemongrass, tender purple center only, minced fine.
¼ cup fried garlic
¼ fried shallot
1 Tbsp black sesame seed
1 Tbsp white sesame seed
¼ cup puffed rice
3 green onions, thinly sliced
6 sprigs cilantro, leaves and stems thinly sliced
Details
Product:
Pork Butt
Meal Course:
Dinner, Lunch
Dish Type:
Entrée
Preparation
Preheat a deep fryer to 350°F.
Whisk together the 2 cups tempura mix, whole egg, turmeric, ice water, and salt. The batter should be thick enough to coat your finger.
Roll pork wings in remaining dry tempura mix until well coated, then dip them into the wet batter and carefully lower them into the fryer. Fry for 5 minutes or until warm all the way through. Then drain on a paper towel.
In a large pan reduce the honey over medium heat until it begins to froth. Roll the fried pork wings in the sticky honey until evenly coated and then roll them immediately in the Thai Chili Crust until completely covered.
Serve the crusted wings with coconut white barbecue on the side for dipping.
Coconut White BBQ:
Whisk all ingredients together until fully incorporated.
Thai Chile Crust:
Toss together all ingredients and keep in a cool dry place.
To order, contact your Smithfield Culinary sales representative, call 888-326-7526 or contact us for more information.
Email Recipe