Guajillo Pork & Cheddar Cheese Biscuits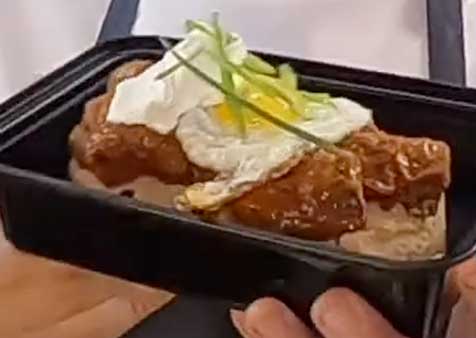 Ingredients
6 garlic cloves, minced
2 carrots, finely choppe
2 medium onions, finely chopped
2 celery ribs, finely chopped
Sea salt and freshly ground pepper, to taste
1 5 lb pork butt
1 sprig Rosemary
¼ cup extra-virgin olive oil
4 cups chicken stock
2 cups white wine
Chipotle Cheddar Biscuits:
1lb bread flour
2 oz baking powder
1 ½ oz sugar
¼ oz kosher salt
½ lb cold butter, diced
1 ½ cups buttermilk
2 chipotle chilies, diced
1 cup shredded cheddar
Lime Sour Cream:
2 cups sour cream
1 lime, zest only
Guajillo Sauce:
10-12 dried guajillo peppers, stemmed and seeded
1 tsp olive oil
1 small onion, chopped
4 garlic cloves, chopped
2 tsp coarse sea salt
Water, as needed
Details
Product:
Pork Butt
Meal Course:
Dinner, Lunch
Dish Type:
Entrée
Preparation
Preheat the oven to 275°F. In a large pot, season the pork with salt and sear in the olive oil on all sides.
Add the garlic, carrots, onions and celery and sauté until the onions are translucent.
Pour in the white wine and reduce by half
Add the chicken stock and rosemary and bring the pot to a simmer
Cover and cook in the oven for 3 hours or until the pork is fork tender
Remove from the oven and allow the pork to rest in the cooking liquid for at least 30 minutes before shredding.
Cover and cook over low heat, stirring occasionally.
Chipotle Cheddar Biscuits:
Whisk all ingredients together until well incorporated.
Spicy Black Bean Glaze:
In a bowl, combine the flour, salt, sugar and baking powder.
Crumb in the chilled butter until small pebbled form.
Add the chopped chipotles, cheddar and buttermilk and mix until well incorporated.
Roll flat and chill for 1 hour.
Cut desired size biscuits and bake in a 400°F oven until risen and lightly golden brown.
Lime Sour Cream:
Whisk both ingredients well until fully incorporated.
Guajillo Sauce:
Dry toast the dried guajillo peppers in a skillet over medium high heat. Toast them a couple minutes per side, until they start to puff up slightly.
Cool, then set them into a heavy bowl with enough hot water to cover them.
Let them soak for 20 to 30 minutes, or until they become very soft. Some dried chiles can soften in 15 minutes or less. Remove them and place them in a blender or food processor. Reserve 1 cup of the dark soaking water, if desired.
Heat the olive oil in the same heated pan. Cook the onion about 3 minutes, or until it becomes translucent.
Add the garlic and cook another minute.
Add them to the food processor along with the sea salt.
Pour in the reserved soaking liquid and process to form a sauce or smooth puree. It will be very thick at this point. Or, use water to thin it out.
Add in more water until you achieve your desired consistency.
To order, contact your Smithfield Culinary sales representative, call 888-326-7526 or contact us for more information.
Email Recipe