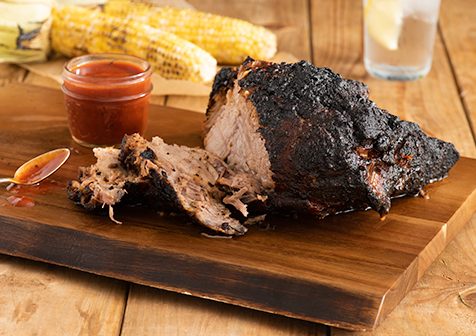 Ingredients
5-7 lb. Boneless Picnic Shoulder
5 Tbsp. dry rub (recipe to follow)
5 tsp. Worcestershire sauce
3 Tbsp. olive oil
4 garlic cloves, minced
Dry Rub
½ cup brown sugar
½ cup paprika
1 Tbsp. salt
1 Tbsp. chili powder
1 Tbsp. garlic powder
1 Tbsp. onion powder
1 tsp. cayenne pepper
Details
Product:
Pork Butt, Pork Shoulder
Meal Course:
Dinner
Dish Type:
Entrée
Preparation
Preheat oven to 425 degrees.
Rub olive oil and Worcestershire sauce on surface of meat.
Cover entire picnic shoulder with rub.
Place meat in shallow roasting pan on oven rack.
Roast for 20 minutes. Reduce heat to 325 degrees.
Continue to cook for about 4 hours.
Remove from oven and let rest until cool enough to handle, about 30 minutes.
To order, contact your Smithfield Culinary sales representative, call 888-326-7526 or contact us for more information.
Email Recipe