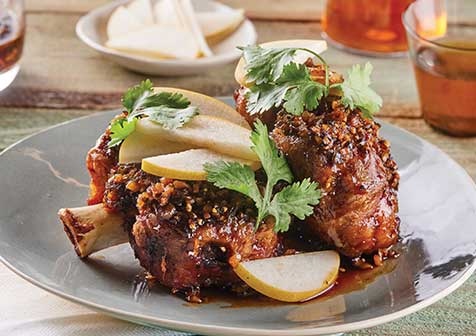 Ingredients
8 Smithfield KC Wild Wings (Pork Shank), bone in
Cornstarch, as needed
Black Pepper Glaze, warm (recipe follows) 1 Asian pear, sliced into thin slices
9-11 cilantro leaves, picked
Scallions, sliced
Black Pepper Glaze:
2 Tbsp grapeseed oil
2 Tbsp minced garlic
2 Tbsp minced ginger
1 Tbsp black peppercorns, crushed
2 tsp fermented black beans, rinsed, squeezed and chopped
¾ cup sweet soy sauce
2 Tbsp tamari
¼ cup sugar
2 Tbsp lime juice
1 tsp kosher salt
Details
Product:
Pig Wings
Meal Course:
Dinner, Lunch
Dish Type:
Entrée
Preparation
Caramelized Sweet Potatoes:
Preheat deep fryer to 350°F.
In small bowl, toss fully cooked pork shanks in just enough cornstarch to lightly coat them.
Deep-fry pork shanks for 6 to 7 minutes or until they are golden brown and crisped, and then remove them and blot them on paper towel to remove excess oil.
In another mixing bowl, add fried pork shanks, and add enough of Black Pepper Glaze to coat them well, tossing carefully to ensure every piece is very well coated.
Place glazed pork shanks on plate, and scatter Asian pears and cilantro leaves.
Black Pepper Glaze:
Heat grape seed oil to smoking, and fry garlic and ginger until golden.
Add scallions, and cook over medium heat until soft; add pepper and cook until very fragrant.
Add remaining ingredients, and bring to boil.
Remove from heat and puree with an immersion blender to smooth.
To order, contact your Smithfield Culinary sales representative, call 888-326-7526 or contact us for more information.
Email Recipe