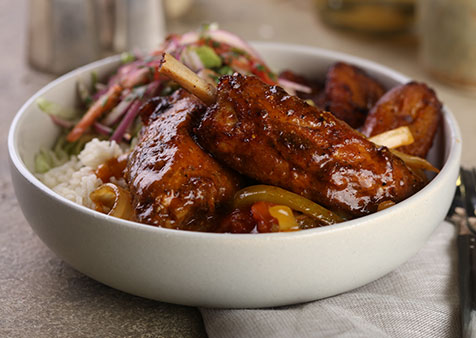 Ingredients
Ingredients:
4 Smoke'N Fast® KC Wild Wings
1 green pepper, sliced ¼-inch thick
1 yellow onion, sliced julienne style
2 Roma tomatoes, sliced
1 plantain, sliced
1 cup Latin citrus sauce (recipe follows)
3 cups cooked rice
1 cup shredded lettuce
½ cup Encurtido (recipe follows)
½ avocado, sliced, for garnish
fried plantain, slices, for garnish
Latin Citrus Sauce:
5 Roma tomatoes, roasted
1 medium onion, roasted
1 celery stalk, diced
½ Tbsp chopped garlic
½ Tbsp oil
1 tsp cumin
1 tsp achiote paste
1 cup of chicken broth
½ lime, juiced
Encurtido:
½ red onion, sliced julienne style
2 Roma tomatoes, ¼-inch-thick slices
½ cucumber, ¼-inch slices
1 bunch cilantro
1 Tbsp vinegar
3 Tbsp olive oil
1 lemon, juiced
Details
Product:
Pig Wings
Meal Course:
Dinner
Dish Type:
Entrée
Preparation
Place wings in a 350°F oil fryer for 4 minutes.
Place green pepper, onions and Roma tomatoes in 350°F fryer for 2½ minutes.
Place plantains in 350°F fryer for 2½ minutes.
For sauce, sauté celery with garlic and oil until garlic and celery are soft.
Add chicken broth, cumin, achiote paste, onions and tomatoes to the pan.
Bring all above to a boil until celery and onion are translucent and tomatoes are falling apart.
Place all ingredients in a blender and liquify.
Place back into a pot a bring to a boil. Add lime juice and season.
Once wings and vegetables are cooked, place in mixing bowl, and add Latin citrus sauce.
Mix wings and vegetables with sauce, making sure sauce is incorporated.
For Encurtido, combine all ingredients and mix. Refrigerate until ready to use.
Reheat rice and plate one portion, adding mixture of vegetables and wings in front of rice.
Place shredded lettuce on left side of plate, and garnish with encurtido.
Place avocados and plantains next to each other on right side of plate.
To order, contact your Smithfield Culinary sales representative, call 888-326-7526 or contact us for more information.
Email Recipe