Boneless Pork Shoulder Chili Verde Tacos, with Fried Egg and Pickled Red Onions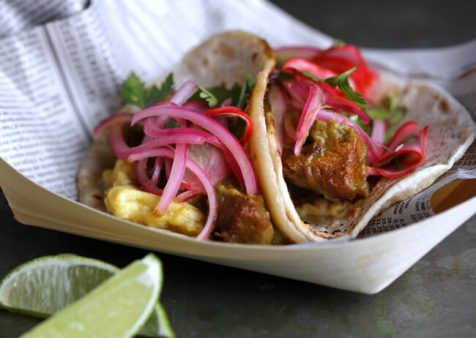 Ingredients
1 cup cumin
2 cups red chili powder
1 Tbsp. fresh oregano
3 limes, squeezed
Tomatillo Salsa (recipe follows)
Butter, as needed
4 flour tortillas
4 eggs
Pickled Red Onions (recipe follows)
Tomatillo Salsa:
2 lb. tomatillos, husked and rinsed
2 whole white onions
6 cups roughly chopped fresh cilantro
2 fresh hot green chiles (jalapeños or serranos) to taste, stemmed
8 large garlic cloves
Salt, to taste
Pickled Red Onions:
1 cup red wine vinegar
1 cup water
½ cup salt
¼ cup sugar
1 large red onion, thinly sliced
½ jalapeño, thinly sliced
Details
Pork Butt brands offered: Smithfield Culinary Fresh Pork
Product:
Pork Butt
Meal Course:
Dinner, Lunch
Dish Type:
Entrée, Sandwich
Preparation
Cut pork into large cubes, 2×2 inches.
Mix all spices and lime juice and rub onto pork.
Heat heavy-bottomed skillet till very hot, add pork shoulder and brown on all sides.
Once pork is browned, add Tomatillo Salsa and bring to simmer. Cover and simmer till tender.
When cooked, remove from heat.
Fry eggs to medium; set aside.
On each tortilla add handful of pork shoulder cubes, top with egg and Pickled Red Onions.
Garnish with cilantro.
Tomatillo Salsa:
Cut all tomatillos in half.
Peel onions and rough chop.
Rough Chop Cilantro.
Toss all ingredients in extra virgin olive oil and add salt to taste.
Evenly spread ingredients on sheet trays.
Roast in oven at 350°F for 30 minute or until onions are brown and edges of tomatillo skin have blistered and are soft. If not soft, keep in oven until they are.
Take out of oven and blend until smooth; if too thick add water to thin out.
Add salt to taste.
Cool down. (Will keep for 7 days.)
Pickled Red Onions:
Thinly slice Red Onions.
Thinly slice Jalapeño.
Mix liquids and seasonings and bring to boil in pan.
Drop sliced onions and jalapeños in liquid and turn heat off.
Let sit for 30 minutes and then add ice to cool.
To order, contact your Smithfield Culinary sales representative, call 888-326-7526 or contact us for more information.
Email Recipe