Breakfast Gnocchi Skillet with Smoked Sausage & Tomatoes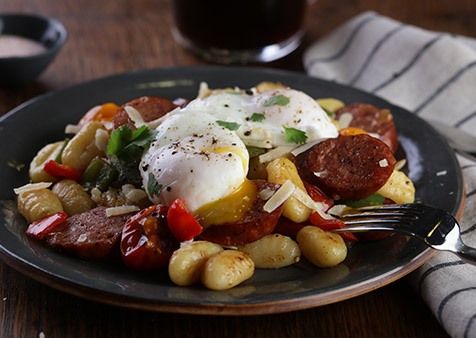 Ingredients
Ingredients:
1 lb shelf-stable gnocchi

2 Tbsp olive oil, divided
1 pt grape tomatoes, sliced in half lengthwise
12 oz Eckrich by Smithfield® Smoked Sausage, sliced into ¼ -inch-thick coins
1 each medium red and green bell peppers, diced
1 oz fresh basil leaves, thinly sliced
Kosher salt, to taste
Freshly ground black pepper, to taste
4 oz fresh Parmesan
1 oz fresh basil
8 eggs, poached
Details
Product:
Smoked Sausage
Meal Course:
Breakfast
Dish Type:
Entrée, Side Dish
Preparation
Bring large pot of salted water to boil over medium-high heat. Add gnocchi and cook for 3 minutes. Drain and toss with 1 tablespoon olive oil. Set aside.

Heat large cast iron skillet over medium-high heat; add 1 tablespoon olive oil. Add grape tomatoes and blister, 1 to 2 minutes. Remove and set aside with gnocchi.

Add smoked sausage and bell peppers to hot skillet, and cook until they begin to brown, 2 to 3 minutes. Stir in gnocchi and tomatoes, and cook until all is combined.

Remove skillet from heat, and season with salt and pepper.

Top with Parmesan and fresh basil. Top with poached eggs, and serve immediately.
To order, contact your Smithfield Culinary sales representative, call 888-326-7526 or contact us for more information.
Email Recipe