Breakfast Sausage and Sweet Potato Bowl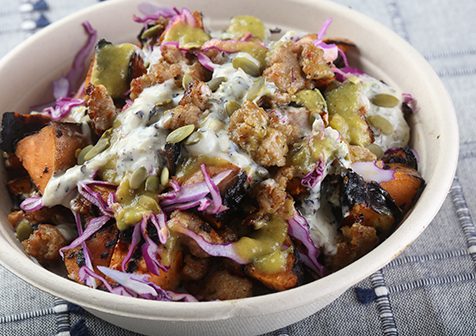 Ingredients
Chili-Lime Dressing:
2 limes, zested
¼ cup lime juice
1 tsp. garlic, minced
¼ cup honey
¼ cup canola oil
3 tsp. roasted jalapeno, skin and seeds removed
½ tsp. salt
Charred Scallion Yogurt:
6 scallions
2 tsp. lemon juice
Salt and pepper to taste
1 Tbsp. vegetable oil
2 sweet potatoes, cut into wedges
8 oz. Breakfast Sausage
2 cups shredded red cabbage
¼ cup pepitas
Details
Product:
Breakfast Sausage
Meal Course:
Breakfast
Dish Type:
Entrée
Preparation
Chili-Lime Dressing:
Combine all ingredients and mix well to combine.
Charred Scallion Yogurt:
Char scallions on a grill or in a cast iron pan, allow to cool
Chop scallions and add to yogurt. Add lemon juice and season to taste with salt and pepper.
To Serve:
Preheat oven to 350°.
Toss sweet potatoes with oil and season with salt and pepper. Place on a rimmed baking sheet and cook until browned and just cooked through. Allow to cool and cut into 1-inch pieces.
Combine cabbage with chili lime dressing and adjust seasoning if necessary.
Cook sausage in a Sautee pan until browned and crispy. Add cooked sweet potatoes to pan and stir until warmed through.
Place sausage mixture in a large serving bowl. Top with cabbage mixture and garnish with yogurt and pepitas.
To order, contact your Smithfield Culinary sales representative, call 888-326-7526 or contact us for more information.
Email Recipe