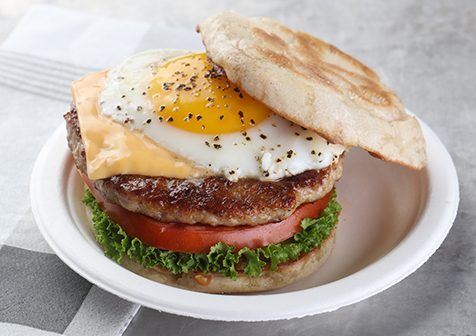 Ingredients
2 slices American Cheese
2 sourdough English muffins, sliced in half
2 Tbsp. butter
2 Tbsp. Sir Kensington's Special Sauce
2 Heirloom tomatoes, sliced 1/4" thick. different varieties if possible
2 Free Range Eggs, beaten with whisk in bowl until frothy
¼ cup baby greens such as arugula or mustard greens
Details
Product:
Breakfast Sausage
Meal Course:
Breakfast
Dish Type:
Entrée, Sandwich
Preparation
Preheat grill or griddle. Cook pork patties 1-2 min until brown. Once browned, place cheese slices on top and melt. Remove and Reserve.
In a nonstick skillet, over medium low heat, add butter and allow to melt.
Crack in two eggs and cook to sunny side up. Season to taste with salt and pepper.
Butter both sides of muffin and place on grill or griddle and toast until golden brown.
Spread both sides of muffin with special sauce. To bottom muffin half, add tomato followed by eggs and greens. Top with remaining muffin halfs.
To order, contact your Smithfield Culinary sales representative, call 888-326-7526 or contact us for more information.
Email Recipe