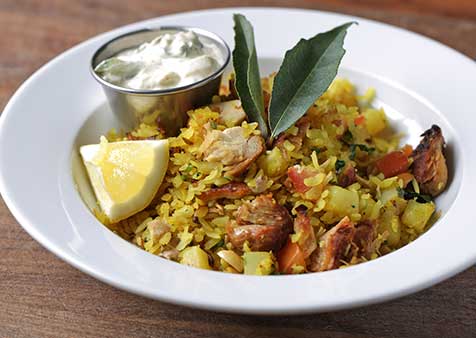 Ingredients
1 lb. Roasted & Seared Chicken, shredded, warmed
Potato Poha (recipe to follow)
Raita (recipe to follow; make it 6 to 24 hours ahead)
Potato Poha:
1.5 cups poha, thick
1/2 cup peanuts
1/2 tsp. turmeric powder
1 Tbsp. kosher salt
2 Tbsp. oil
1 large Idaho potato, 1/4″ dice
1 tsp. black mustard seeds
1/2 tsp. cumin seeds
1 small red onion, finely chopped
1 sprig green curry leaves, fresh
1 small serrano pepper, finely chopped
2 Tbsp. cilantro leaves, whole, chopped
4 lemon wedges
Raita:
1 cup plain nonfat yogurt
1/3 cup cucumber, finely chopped
1 Tbsp. fresh mint, chopped
1 small garlic clove, finely chopped
1/4 tsp. curry powder
1 tsp. grated lemon peel, for garnish
Details
Product:
Smoke'NFast Roasted & Seared Chicken
Meal Course:
Dinner, Lunch
Dish Type:
Entrée
Preparation
Stir chicken into hot Potato Poha.
Top with Raita.
Potato Poha:
Wet poha enough to get it soft. (Do not overwet it, or it will be mushy and useless.)
Heat medium pan and add peanuts. Roast peanuts until they are hot; set aside.
Sprinkle turmeric and salt (as required) on poha. Gently mix with your hands.
Heat oil in another pan. Add potatoes. Sauté potatoes till light golden and crisp.
Remove them with slotted spoon; set aside.
In same pan, add mustard seeds to hot oil. When they splutter, add cumin seeds. Allow cumin seeds to change color and crackle.
Then add about 1/2 cup finely chopped onions. Sauté onions till they become translucent and soften.
Add 7 to 8 curry leaves and l tsp. chopped serranos. Sauté for half a minute.
Add roasted peanuts and stir well.
Add poha. Stir gently but very well until everything is mixed evenly.
Add sautéed potatoes. Mix gently with rest of mixture.
Cover pan tightly with lid and steam poha for 1 or 2 minutes on low flame. (This method softens poha.) Switch off flame and keep lid on pan for a further 4 to 5 minutes.
Remove lid and garnish poha with chopped coriander/cilantro leaves.
Serve poha hot with lemon wedges because lemon juice has to be squeezed onto poha before eating it. Mix juice with poha.
Raita:
Combine yogurt, cucumbers, mint, garlic and curry powder; mix well.
Cover and refrigerate 6 to 24 hours to allow flavors to blend.
Garnish with 1 tsp. grated lemon peel.
To order, contact your Smithfield Culinary sales representative, call 888-326-7526 or contact us for more information.
Email Recipe