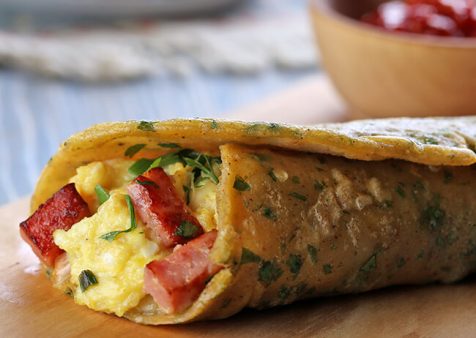 Ingredients
1⅓ cups chickpea flour
2 tsp. salt
2 tsp. Indian Spice Mix (recipe follows)
1 cup finely chopped cilantro leaves, packed
1 tsp. grated ginger
1 tsp. minced roasted jalapeño
1 cup + 2 oz. water
Eggs, scrambled
Leeks and scallions
Sweet potato puree
Indian Spice Mix:
Makes enough for 40 crêpes
1 Tbsp. ground clove
¼ cup powdered cardamom
¼ cup powdered ginger
3 Tbsp. ground cinnamon
½ cup cayenne pepper
½ cup black pepper
¼ cup paprika
½ cup salt
Sweet Potato Puree:
1 sweet potato
Salt and pepper, to taste
Details
Smoked Sausage brands offered: Eckrich, Farmland, Patrick Cudahy, John Morrell, Farmland Smoke'NFast
Product:
Smoked Sausage
Meal Course:
Dinner, Lunch
Dish Type:
Entrée, Sandwich
Preparation
In medium mixing bowl, mix together chickpea flour, salt and Indian Spice Mix.
Add cilantro, ginger and jalapeños. Add water and mix well, removing all lumps.
Let mixture sit ½ hour before using.
Once mixture is ready, heat a Teflon pan on medium heat.
Add 2 oz. crêpe mixture to pan and cook crêpe for 1 minute. Turn crêpe over and cook additional minute until golden brown.
Sear the smoked sausage in sauté pan, add scallions and leeks and cook lightly.
Add whipped eggs to the pan and scramble with the smoked sausage and leeks.
To assemble the crêpe, coat the crêpe with sweet potato puree, place the scrambled egg and sausage mixture inside and roll the crêpe around the mixture.
Indian Spice Mix:
In a large bowl, combine all ingredients with wire whisk, mixing well. Store in air-tight container.
Sweet Potato Puree:
In 375°F degree, roast sweet potato until soft, approximately 45 minutes.
Scoop out inside of the sweet potato and run flesh through sieve.
Season with salt and pepper, set aside.
To order, contact your Smithfield Culinary sales representative, call 888-326-7526 or contact us for more information.
Email Recipe