Smoked Sausage and Shrimp Pot Pie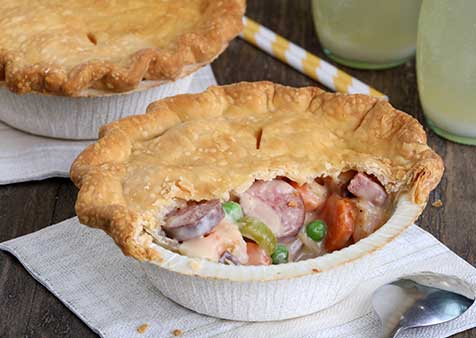 Ingredients
Pie Crust (recipe follows)
2 Tbsp extra virgin olive oil
1 lb 41/50 shrimp
4 oz Smoked Sausage
1 cup sliced carrots
1 cup peas
1/2 cup sliced celery
1/3 cup diced onion
1/3 cup butter
1/3 cup all-purpose flour
1/2 tsp salt
1/4 tsp black pepper
1/4 tsp smoked paprika
1/4 tsp cayenne pepper
1 3/4 cups chicken stock
2/3 cup milk
Pie Crust:
1/4 cups all-purpose flour
1 tsp honey
1/4 tsp salt
1 1/2 cups cold butter, cubed
2-5 Tbsp cold water
Details
Product:
Smoked Sausage
Meal Course:
Dinner, Lunch
Dish Type:
Entrée
Preparation
Preheat oven to 425°F.
Roll out chilled Pie Crust on lightly floured surface to a little less than 1/8 -inch thick. Use it to line 2 6-inch deep dish pie pans, and then trim off excess with sharp knife.
Put extra virgin olive oil in pot, and sauté shrimp, sausage, carrots, peas, celery and onions until vegetables are lightly softened.
Add butter and flour, and whisk until roux is formed. Continue to cook slightly until light golden brown.
Add all other ingredients, and bring to simmer while whisking.
Allow sauce to simmer for 10 minutes until thickened.
Pour mixture into pie dishes, and top each pie with remaining dough.
Make several slits in top to allow steam to escape.
Bake for 20 minutes or until crust is golden brown, and then cool for 10 minutes before serving.
Pie Crust:
In food processor, pulse together flour, honey and salt.
Add butter and pulse until mixture resembles coarse meal, with a few pea-size pieces of butter remaining.
Sprinkle with 3 tablespoons cold water.
Pulse until dough is crumbly but holds together when squeezed (add more if necessary).
Form dough into disk, wrap tightly in plastic, and refrigerate until firm, about 1 hour.
To order, contact your Smithfield Culinary sales representative, call 888-326-7526 or contact us for more information.
Email Recipe