Chorizo and Potato Pambazos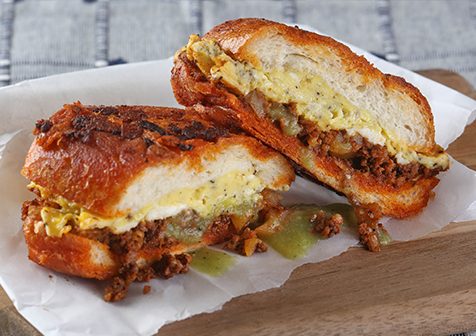 Ingredients
Guajillo Chili Sauce:
4 Guajillo chilies, stem and seeds removed
1/2 cup white onions, diced
1 clove garlic
2 Tbsp. vegetable or canola oil
1 lb. Chorizo
¼ cup yellow onion, small dice
1 lb. Yukon gold potatoes, small dice
Salt and pepper to taste
4 Pambazo rolls or large sub rolls
4 large eggs, scrambled
½ lb. queso fresco, crumbled
Details
Product:
Chorizo
Meal Course:
Breakfast
Dish Type:
Entrée, Sandwich
Preparation
Guajillo Chili Sauce:
In a medium sauce pot, place chilies, onions, and garlic. Add enough water to cover slightly. Bring to a boil, reduce to a simmer, and cook for 8 minutes. Remove and strain reserving liquid. Blend ingredients together until smooth adding just enough liquid to puree.
Pambazos:
Add oil to a medium Sautee pan heat over medium high heat. Add Chorizo and cook, stirring frequently until browned and cooked through. Remove and reserve leaving excess oil in pan.
Add onions and potatoes to the same pan and cook until potatoes are softened but not mushy. Season to taste with salt and pepper.
Split the rolls and bush the tops of each with reserved guajillo chili sauce. Add sausage mixture to each roll, then the eggs and finish with the queso fresco.
In the same sauté pan that the sausage was cooked in, heat the reserved grease and add the sandwiches. Press down and cook on both sides until crispy.
To order, contact your Smithfield Culinary sales representative, call 888-326-7526 or contact us for more information.
Email Recipe