Cider House Pork Monte Cristo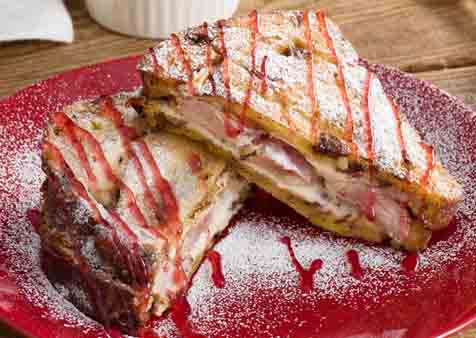 Ingredients
2 slices raisin cinnamon swirl bread
1 tablespoon cinnamon cream cheese
3 oz. Apple Cinnamon Pork Loin, sliced thin, divided
2 oz. apple compote
2 medium eggs
2 tablespoons water
1 tablespoon powdered sugar
Details
Product:
Pork Loin
Meal Course:
Lunch
Dish Type:
Entrée, Sandwich
Preparation
Heat deep fryer to 350°F.
Spread cream cheese on both slices of bread. On bottom slice, layer 1 1/2 ounces of pork loin, apple compote, remaining pork loin and top with second slice of bread.
Toothpick four corners of sandwich. In mixing bowl combine eggs and water; beat well. Dip sandwich in egg and deep fry approximately 1 minute or until golden brown and heated through.
Remove toothpicks and slice sandwich into quarters. Top with powdered sugar and serve.
To order, contact your Smithfield Culinary sales representative, call 888-326-7526 or contact us for more information.
Email Recipe