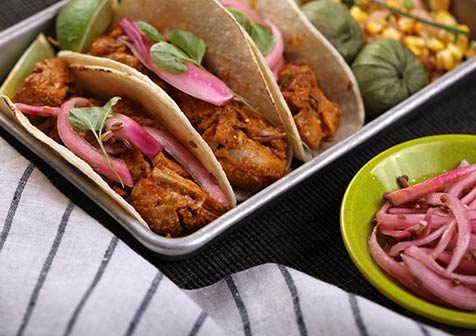 Ingredients
Cochinita Pibil Marinade and Pork Butt
3 heads of garlic, divided
½ cinnamon stick
1½ tsp. whole cumin seeds
3 cloves
4 Tbsp. dried oregano
50 grams achiote paste
½ cup bitter orange juice (approximately 2 Seville oranges)
Dried guajillo and ancho chiles, to taste
Salt, to taste
4 plantain leaves
16 oz. jar pickled red onion
Details
Brands Offered: Farmland, Smithfield Culinary DURoC
Product:
Pork Butt
Meal Course:
Dinner, Lunch
Dish Type:
Entrée
Preparation
Day before: Heat grill to 200°C, 392°F.
To prepare Cochinita Pibil Marinade: Grill 1 head garlic, turning regularly, until lightly brown and soft, about 10 minutes. Remove from heat and cool.
Place saucepan over medium heat; gently toast cinnamon, cumin and cloves until fragrant. Add oregano and toast for additional 1 to 2 minutes. Remove from heat and cool.
Place into blender with remaining garlic, achiote paste, orange juice and dried chiles. Process into thick paste; season with salt.
To marinate pork: Place pork into sealable freezer bag with paste; seal and mix well until meat is fully coated. Place in refrigerator to marinate for a few hours, preferably overnight.
Next day: preheat grill to 400°F. Wash plantain leaves; layer under grill for about 5 to 10 minutes until lightly grilled and fragrant.
Heat oven to 400°F. Place large ovenproof dish filled with water at bottom. Cook for 2 hours or until internal temperature reaches 190°F.
Remove from heat and let cool. Pull pork and serve atop white corn tortialla and garnish with pickled red onion.
To order, contact your Smithfield Culinary sales representative, call 888-326-7526 or contact us for more information.
Email Recipe