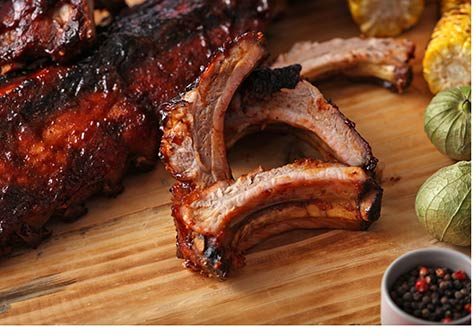 Ingredients
Barbecue Sauce
2 Tbsp. vegetable oil
1 small sweet onion, coarsely chopped
3 small cloves garlic, coarsely chopped
1 cup ketchup
⅓ cup cold water
1 heaping Tbsp. Dijon mustard
1 Tbsp. red wine vinegar (or sherry vinegar)
1 Tbsp. Worcestershire sauce
1 chipotle pepper in adobo, canned, chopped
2 Tbsp. ancho chili powder
1 Tbsp. sweet Spanish paprika
2 Tbsp. dark brown sugar, packed
1 Tbsp. honey
1 Tbsp. molasses
Kosher salt, to taste
Freshly ground black pepper, to taste
Spice Rub and Ribs
¼ cup packed dark brown sugar
1 Tbsp. smoked or sweet paprika
4½ tsp. ancho chili powder
1½ tsp. onion powder
1½ tsp. kosher salt
1 pinch cayenne or chipotle powder
Freshly ground black pepper, to taste
4 lbs. Baby Back Ribs

2 tsp. cider vinegar, optional
Details
Brands Offered: Farmland, Farmland Rib Company, Curly's, Smithfield Culinary DURoC
Product:
Ribs
Meal Course:
Dinner, Lunch
Dish Type:
Entrée
Preparation
To prepare Barbecue Sauce: Heat oil in saucepan over medium-high heat until simmering. Cook onions until softened, 3 to 4 minutes; add garlic and cook for 1 minute. Add ketchup and water and bring to boil, stirring frequently. Reduce heat to medium-low; simmer for 5 minutes.
Add mustard, vinegar, Worcestershire sauce, chipotle chiles, ancho chili powder, paprika, brown sugar, honey and molasses and bring to simmer.
Cook, stirring occasionally, until thickened, about 10 minutes. Let cool for at least 10 minutes.
Place barbecue sauce into food processor or blender and puree until smooth or desired consistency.
Cool to room temperature before use; season with salt and pepper. If desired, leave undisturbed overnight to develop flavor.
Preheat oven to 200°F.
To prepare Spice Rub: In medium bowl, mix first 7 ingredients until well combined.
Place ribs on sheet of aluminum foil long enough to wrap completely. Sprinkle spice rub over top of ribs (meaty-side up) and massage; flip and repeat on other side. Wrap ribs tightly with meaty side down in foil and transfer to baking sheet with cooling rack inserted.
Bake for 4 hours, reduce oven temperature to 175°F and bake for another 2 hours, until ribs are tender, almost falling off bone.
Remove ribs from foil, place on large cutting board and cut so that each has a bone and a thick portion of meat. Serve hot with Barbecue Sauce.
Optional: Pour drippings from foil into small saucepan; bring to boil and reduce to a thick syrup; stir in vinegar. Use as desired.
To order, contact your Smithfield Culinary sales representative, call 888-326-7526 or contact us for more information.
Email Recipe