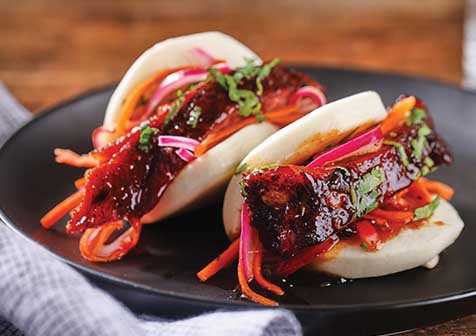 Ingredients
12 frozen lotus or bao buns
1 lb Smoke'NFast St. Louis StylePork Spareribs
Pork Spareribs
1 cup Asian BBQ Sauce (recipe follows)
1 cup Pickled Vegetables (recipe follows)
¼ cup chopped cilantro (optional)
Asian BBQ Sauce:
¾ cup hoisin sauce
½ cup sweet chili sauce
2 Tbsp clover honey
1 Tbsp dark sesame oil
1 Tbsp soy sauce
1 Tbsp rice vinegar
1 Tbsp chili garlic sauce
Pickled Vegetables:
¾ cup rice vinegar
¼ cup water
2 Tbsp granulated sugar
1 tsp kosher salt
2 medium carrots, julienned
1 medium red onion, very thinly sliced
Details
Product:
Ribs, Smoke'NFast Smoked St. Louis Style Pork Spare Ribs
Meal Course:
Dinner, Lunch
Dish Type:
Appetizer, Entrée, Sandwich
Preparation
Pork Ribs:
Preheat oven to 350°F. In large ovenproof skillet, add ribs, cover, and place in oven to heat thoroughly.
After about 5 minutes, glaze ribs with Asian BBQ Sauce, and return to oven for approximately 5 to 8 more minutes.
After ribs are heated, carefully remove bones from slab. Brush meat with more sauce, and keep warm for service.
Asian BBQ Sauce:
Combine all sauce ingredients in small saucepan, and bring to boil over medium-high heat, stirring often to prevent burning.
Reduce heat and simmer gently for 5 minutes, stirring occasionally. Add water as necessary to thin out sauce if it's too thick. Remove from heat, and let cool to room temperature before using.
Pickled Vegetables:
In medium bowl, whisk vinegar, sugar and salt until dissolved.Add rest of the ingredients. Cover and refrigerate for at least 30 minutes
To Serve:
Slice rib meat into ½-inch-thick slices. Working in batches, steam buns.Toss pieces of pork ribs in bowl with Asian BBQ Sauce, reserving some sauce and spreading it on inside of buns. Add some Pickled Vegetables, nestle pork slices into buns, and top with cilantro.
To order, contact your Smithfield Culinary sales representative, call 888-326-7526 or contact us for more information.
Email Recipe