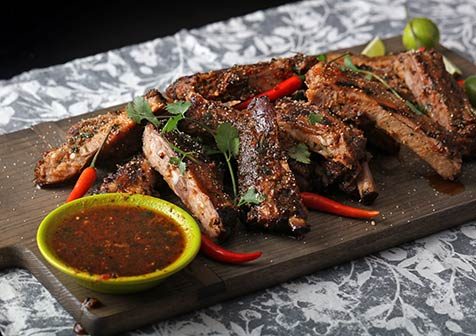 Ingredients
Ribs
2 racks St. Louis–Style Pork Ribs, cut 2" crosswise
1½ cups clover honey, divided
½ cup Thai thin soy sauce
½ cup Shaoxing rice wine
¼ cup ginger puree
2 tsp. sesame oil
2 Tbsp. Indonesian chili paste
½ tsp. freshly ground cinnamon
¼ tsp. freshly ground nutmeg
½ cup hot water
Toasted Sticky Rice Powder
½ cup glutinous rice, uncooked
Spicy Thai Dipping Sauce
40 grams lemon grass, pureed
½ cup fish sauce
⅓ cup Thai thin soy sauce
3 tsp. Thai seasoning sauce
1 cup fresh key lime juice
⅓ cup palm sugar syrup
⅓ Indonesian-style chili paste
¼ cup Toasted Sticky Rice Powder (recipe follows)
¼ cup cilantro, coarsely chopped
Details
Product:
Ribs
Meal Course:
Dinner
Dish Type:
Entrée
Preparation
To prepare Ribs: Divide pieces into 2 vacuum-seal bags. In stainless steel bowl, whisk ½ cup honey, soy sauce, rice wine, ginger puree, sesame oil, chili paste, cinnamon and nutmeg until smooth. Pour marinade over ribs and vacuum-seal bags. Preheat immersion circulator to 145°F. Place vacuum-sealed ribs in immersion circulator bath for 8 to 12 hours.
Heat smoker to 250°F with hickory chips. Drain ribs and pat dry. Place in smoker and cook 2 to 4 hours. Remove ribs from smoker and chill to 40°F. Refrigerate until service. Reserve remaining honey and hot water for service.
To prepare Toasted Sticky Rice Powder: Place rice in bowl and cover with water. Soak for at least 4 hours or overnight. Drain rice and lay on towels until completely dry. Heat wok on medium-low heat and cook rice, stirring constantly until golden brown, about 45 minutes. Remove from heat and let cool. Place in coffee grinder and grind until texture resembles kosher salt.
To prepare Spicy Thai Dipping Sauce: Add all ingredients to mixing bowl, and whisk until smooth.
For service, preheat char grill to 450°F. Mix hot water and reserved 1 cup honey. Place smoked ribs onto grill until internal temperature reaches 165°F, brushing with honey mixture. For presentation, lay banana leaves on platter and arrange ribs on top. Serve with limes and bowl of Spicy Thai Dipping Sauce.
To order, contact your Smithfield Culinary sales representative, call 888-326-7526 or contact us for more information.
Email Recipe