Donkaas Breakfast Sandwich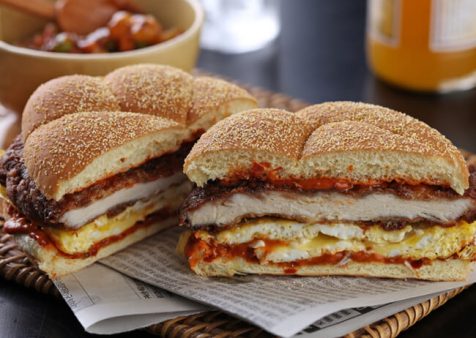 Ingredients
Four 6 oz. Pork Chops, sliced
1 tsp. Salt
2 tsp. Sesame Oil
1 tsp. White Pepper
1 tsp. Shiitake Mushroom Powder
1 Tbsp. Soy Sauce
2 Tbsp. Cooking Rice Wine
1 tsp. Ground Cloves
2 Tbsp. Ginger Powder
2 Tbsp. Palm Sugar
1 tsp. Baking Soda
2 Tbsp. water or as needed
1 cup Cornstarch
1 cup Besan (Chickpea or Garbanzo) Flour
Butter
4 Brioche Hamburger Buns or your preferred choice of bread for sandwiches
Korean Spicy Mustard Sauce (recipe to follow)
4 pieces of Pork Chop, prepared as instructed below
Gravy (recipe to follow)
Gravy:
½ White Onion, sliced
1 Tbsp. Green Peas
1 Tbsp. Carrots
1 small Potato, sliced
4 Tbsp. All Purpose Flour
2 cups Beef Broth
1 Tbsp. Oyster Sauce
1 tsp. Worcestershire Sauce
1 tsp. Soy Sauce
Salt to taste
Korean Spicy Mustard Sauce:
2 Tbsp. Gochujang
2 Tbsp. Sambal Oelek
2 Tbsp. Yellow Mustard
2 Tbsp. Sweet Onion, minced
Details
Product:
Pork Chops
Meal Course:
Breakfast
Dish Type:
Entrée, Sandwich
Preparation
Pound the Pork Chops to flatten them to about 1/4 inch thick. Careful not to tear the pork.
Mix the first 11 ingredients together until very well incorporated. Toss the pork in the mix. Make sure to evenly coat all of the pork.
Mix the cornstarch and besan flour together. Dredge each side of the pork chops in the flour mixture, and then set aside on a plate.
Heat the oil over medium to medium-high heat. Add the butter. When the butter is melted and the butter/oil mixture is hot, cook 2 pork chops at a time, 2 to 3 minutes on the first side.
Flip and cook until the chops are golden brown on the other side, 1 to 2 minutes (make sure no pink juices remain). Remove to a plate and repeat with the remaining pork chops.
Toast the bread and spread the Korean Spicy Mustard on both buns. Lay a piece of Pork Chop on each bun and serve open faced with gravy on the side or poured over the top!
Gravy:
Sauté onion, peas and carrots until al dente. Set aside.
Heat potato in a pot of water until just cooked through, not too soft like mashed potato, you want it to be cooked but not falling apart. Drain the potatoes.
Add the other vegetables back in. Add flour and mix in well.
Cook for 2 minutes. Add beef broth and bring to a simmer. Add oyster sauce, Worcestershire, soy and simmer for 4-5 minutes. Cook until thickened.
Korean Spicy Mustard Sauce:
Whisk everything together until smooth and uniform.
To order, contact your Smithfield Culinary sales representative, call 888-326-7526 or contact us for more information.
Email Recipe