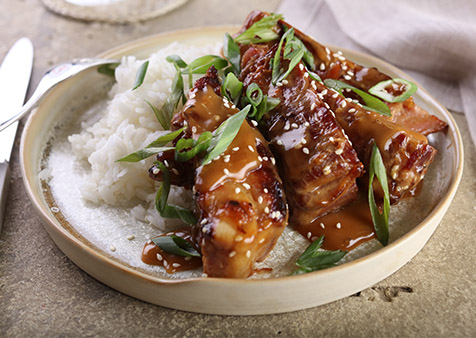 Ingredients
Ingredients:
1 can coconut milk
1 cup soy sauce
1 cup cider vinegar
½ cup packed brown sugar
3 bay leaves
Black pepper, to taste
1 Tbsp cornstarch mixed with
¼ cup cold water
2 lbs Farmland by Smithfield® Smoke'N Fast Ribbits®, thawed
Steamed Jasmine Rice (recipe follows)
Chopped scallions, for garnish
Steamed Jasmine Rice:
1½ cups jasmine rice
2¾ cups water
1 tsp salt
Details
Product:
Ribs
Meal Course:
Dinner
Dish Type:
Entrée
Preparation
In nonreactive saucepan, combine coconut milk, soy sauce, cider vinegar, brown sugar and bay leaves.
Bring to light boil, and stir to combine.
Turn down to simmer, and reduce by one-third.
Season sauce with black pepper. Add cornstarch slurry slowly, to desired thickness.
In covered pan, steam ribbits to internal temperature of 165°F.
To finish, mark Ribbits on flame grill. Toss marked Ribbits in finished sauce.
Serve on Steamed Jasmine Rice, and garnish with chopped scallions.
For Steamed Jasmine Rice, rinse rice 2-3 times in cold water.
Combine water, rice and salt in saucepan. Bring to light boil.
Cover, and turn down to simmer. Simmer for 3-5 minutes, and turn off.
To order, contact your Smithfield Culinary sales representative, call 888-326-7526 or contact us for more information.
Email Recipe