Griddled Bean & Masa Cakes With Crispy Carnitas, Guacamole & Chipotle Crema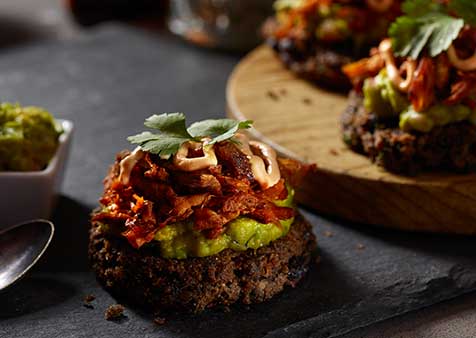 Ingredients
BEAN & MASA CAKES
1/2 cup ground cornmeal
4 cans black beans
4 cloves minced garlic
2 eggs
1 tablespoon mayonnaise
3/4 cup ground crispy tortillas
1/2 cup chopped fresh cilantro
1 teaspoon dry oregano
1/4 cup finely chopped white onion
Hot sauce (to taste)
1 pinch salt (to taste)
Fresh pepper (to taste)
1 pinch smoked paprika
1 dash liquid smoke
Drizzle olive oil
TOPPINGS
Guacamole (to taste)
Chipotle crema (to taste)
Chopped cilantro (to taste)
Details
Product:
Roasted & Seared Pork Shoulder
Meal Course:
Dinner, Lunch
Dish Type:
Appetizer, Entrée, Side Dish
Preparation
Pulse all bean & masa cake ingredients in food processor scraping down as you go.
Take mixture and form into 2 tablespoon-sized patties and coat in excess cornmeal and place on sheet tray.
Heat 1/4 inch oil in a non-stick frying pan.
Pan fry in batches until each side is golden brown and inside is heated through.
TOPPINGS
Top each cake with your favorite guacamole, then crispy Roasted & Seared Pork Shoulder, and finish with a chipotle crema and chopped cilantro.
To order, contact your Smithfield Culinary sales representative, call 888-326-7526 or contact us for more information.
Email Recipe