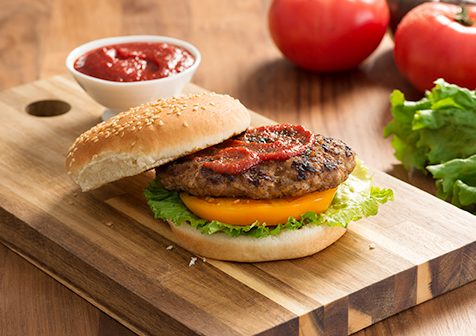 Ingredients
2 cups Tomato puree
1 Tbsp. Worcestershire sauce
3 Tbsp. Dijon mustard
1/2 cup Light brown sugar
2 Tbsp. Lemon juice
1.5 lb. Ground Pork
2 tsp. Kosher salt
2 tsp. Black pepper, coarse ground
4 ea. Sesame seed burger buns
4 ea. Crisp butter lettuce
8 slices Farm fresh heirloom tomato
Details
Product:
Ground Pork
Meal Course:
Dinner, Lunch
Dish Type:
Entrée, Sandwich
Preparation
Heat grill to high heat. Brush oil over grill, or spray with non-stick cooking spray to prevent burgers from sticking.
In a medium sauce pan, combine tomato puree, Worcestershire, mustard, sugar, and lemon juice in a medium sauce pan. Bring to a boil over medium heat, stirring often. Reduce heat to low and simmer; stir often until mixture becomes thick and syrupy. Remove from heat.
Place ground pork into a bowl, season with salt and pepper. Form 4 patties, each approximately 3/4-inch thick and 4-inches wide. Reduce grill temperature to medium heat.
Grill patties approximately 8 minutes per side or until internal temperature reaches 160°F.
Place buns on the grill, sliced side down, and toast for approximately 30 seconds. Remove from grill and plate. Layer bottom bun with lettuce, tomato, and pork burger on the bottom half of the bun. Top with 2 tablespoons of BBQ sauce and bun top. Serve excess BBQ sauce on side.
Prep Time: 10 min.
Cook Time: 15-20 min.
To order, contact your Smithfield Culinary sales representative, call 888-326-7526 or contact us for more information.
Email Recipe