Grilled Pork Butt Summer Rolls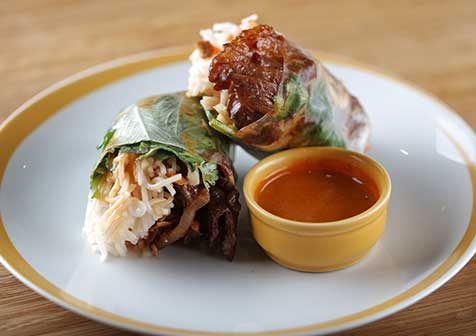 Ingredients
4 Tbsp. brown sugar
1 Tbsp. sambal chili paste
1 tsp. fish sauce
1 oz. vegetable oil
1 cup Pork Glaze (recipe below)
16 round rice paper sheets
32 mint leaves
1 bunch cilantro
1 cup pickled daikon and carrot
½ cup fried shallots
1 8 oz. pack dried rice noodles, cooked
1 cup spicy mayo
Pork Glaze

½ cup hoisin
1 Tbsp. sambal chili paste
1 Tbsp. brown sugar
Peanut Dipping Sauce
1 cup peanut butter
2 tsp. seasoned rice wine vinegar
1 Tbsp. fermented red pepper paste
1 Tbsp. brown sugar
1 Tbsp. hoisin
½ Tbsp. sambal chili paste
1 cup water
Details
Product:
Pork Butt
Meal Course:
Dinner, Lunch
Dish Type:
Appetizer, Entrée, Sandwich
Preparation
In small bowl, whisk together brown sugar, chili paste and fish sauce. Mix with sliced pork butt, and let sit for at least 20 minutes.
Toss marinated pork with vegetable oil, and char on a grill.
When pork reaches about 130°F, remove to tray and brush with Pork Glaze. Soften rice paper wrappers in hot water.
In center of each softened rice paper round, in a line, place 2 mint leaves, 3 cilantro stems with leaves, 1/2 oz. of pickled daikon and carrot, pinch fried shallots, 1 oz. of cooked rice noodles, 1 tsp. spicy mayo, and 1 oz. charred and glazed pork.
Carefully fold in sides of sheet, and then roll filling up into sheet to form tight packet. Continue process until all wrappers are used. Serve immediately with Peanut Dipping Sauce.
For Pork Glaze, in small pot, heat all ingredients together until sugar is dissolved. Let cool and reserve.
For Peanut Dipping Sauce, whisk all ingredients together until fully incorporated. Add more water if necessary until desired thickness.
To order, contact your Smithfield Culinary sales representative, call 888-326-7526 or contact us for more information.
Email Recipe