Herb-Crusted Smoked Rack of Pork with Drip Pan Potatoes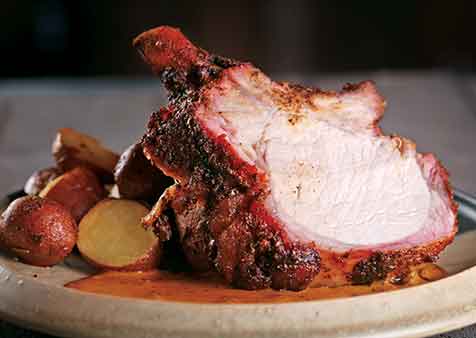 Ingredients
3 Tbsp. olive oil
1 medium onion, diced
3 cloves garlic, minced
2 cups heavy cream
Seasoning Paste:
8 tsp. olive oil
4 ¾ tsp. salt
4 tsp. paprika
2¾ tsp. freshly ground black pepper
2¾ tsp. garlic powder
2 tsp. soy sauce
1 tsp. ground ginger
1 tsp. dried oregano
1 tsp. dried rosemary
1 tsp. dried thyme
Drip Pan Potatoes
3 lbs. new potatoes
4 Tbsp. (½ stick) unsalted butter
¼ cup extra-virgin olive oil
1 Tbsp. chopped fresh rosemary
1 Tbsp. chopped fresh thyme
Dry Rub (recipe below)
1 rack of pork or pork butt (for drippings)
Dry Rub:
¾ tsp. garlic salt
¾ tsp. sugar
½ tsp. onion salt
½ tsp. paprika
½ tsp. black pepper
¼ tsp. celery salt
Pinch of curry powder
Details
Product:
Pork Butt
Meal Course:
Dinner
Dish Type:
Entrée
Preparation
To prepare rack of pork, build charcoal and/or wood fire for indirect cooking by situating coals on only one side of grill, leaving other side empty. Preheat grill to 250°F.
To prepare Seasoning Paste, combine all its ingredients in small bowl.
Set aside 2 Tbsp. Seasoning Paste for cream sauce. Apply remaining Seasoning Paste to rack of pork in an even coating.
Put pork over indirect heat, away from coals, close grill lid, and cook until internal temperature reaches 140°F, about 2 hours, 45 minutes. Transfer pork to cutting board, and let it rest for 15 minutes.
To prepare cream sauce, add olive oil to medium skillet over medium heat. Add diced onions and cook, stirring, until they soften slightly, about 4 minutes. Add garlic and reserved Seasoning Paste and cook until there is no liquid in skillet, about 3 minutes. Add cream and simmer until mixture thickens, about 8 minutes.
Slice pork between each bone with heavy knife or cleaver. Drizzle with cream sauce and serve.
To prepare potatoes, build charcoal fire for indirect cooking by situating coals on only one side of grill, leaving other side empty.
Put potatoes in large baking pan in single layer. (When selecting the pan size, take into consideration the shape of the meat that will be cooking above the pan.) In a small bowl, combine Dry Rub ingredients. In small saucepan, melt butter; then add olive oil. Drizzle butter and olive oil mixture over potatoes; sprinkle rosemary, thyme and Dry Rub evenly over potatoes, and toss together.
Place cut of pork on grill over indirect heat. Put potato pan on grill over indirect heat, directly under rack that holds large cut of meat. Close grill lid and continue cooking meat. While juices are rendered from meat, they will season potatoes as they cook. (The temperature you are cooking the meat will determine how long it takes for the potatoes to get done: 2 hours, 30 minutes at 225°F, 2 hours at 250°F, or 1 hour, 30 minutes at 300°F.)
Remove potatoes from grill and serve in baking pan family-style along with meat.
To order, contact your Smithfield Culinary sales representative, call 888-326-7526 or contact us for more information.
Email Recipe