KOREAN JANG-JANG RIBS WITH CHA-CHA BARBEQUE SAUCE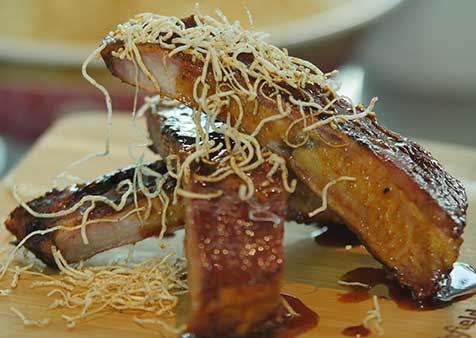 Ingredients
1 cup Sriracha Cha Sauce
2 racks St. Louis Ribs
1/4 cup Gochujang
1/2 cup Kansas City Style BBQ Rub
1 log Cherry Wood
1/2 Cha-Cha Barbeque Sauce
CHA-CHA BARBEQUE SAUCE
3 cups Hot Water
1/2 pound Brown Sugar
1/2 pound White Sugar
1 cup Sprite
1 cup Gochujang
3/4 cup Sriracha Cha by Texas Pete
3/4 cup Honey
1/4 cup Soy Sauce
1/4 cup Lime Juice
2 Tbsp. Sesame Oil
Recipe Credit: Chef Frank Dominguez of Smithfield Culinary.
Published with permission of the author. All rights reserved.
Details
Product:
Ribs
Meal Course:
Dinner, Lunch
Dish Type:
Entrée
Preparation
Remove silver skin and massage the rack of ribs with Gochujang evenly on all sides.
Season ribs with BBQ rub and refrigerate for 1–2 hours.
Place ribs in smoker and then set temperature to 225°F. Smoke with cherry wood log for 3–3.5 hours. Bones should protrude about 1/4 to 1/2 inch.
Wrap ribs tightly in foil and let rest for approximately 30 minutes.
Cha-Cha Barbeque Sauce: Bring water to a boil; add sugars and dissolve. Stir together remaining ingredients, lower heat to a simmer. Reduce to desired thickness.
Remove ribs from foil and brush with Cha-Cha barbeque sauce and serve.
To order, contact your Smithfield Culinary sales representative, call 888-326-7526 or contact us for more information.
Email Recipe