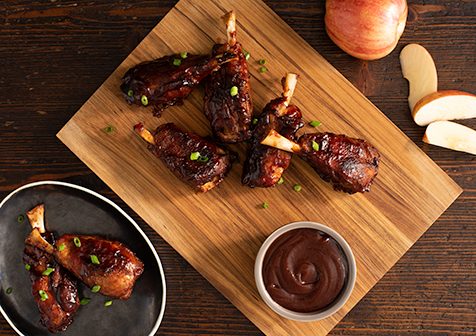 Ingredients
2 cups apple juice
2 cups ketchup
1 cup dark molasses
1 cup brown sugar
3/4 cup Worcestershire sauce
2 tablespoons dry mustard powder
1 tablespoon smoked paprika
Details
Product:
Pig Wings
Meal Course:
Lunch
Dish Type:
Appetizer
Preparation
Combine all ingredients except pork in medium saucepan. Simmer on low heat for 2 hours or until sauce begins to thicken.
Season wings with extra virgin olive oil, sea salt and cracked pepper.
Heat convection oven to 375°F. Place wings on sheet pan.
Roast, basting every ten minutes with apple BBQ sauce until internal temperature reaches 145°F. Let stand 3 minutes before serving.
To order, contact your Smithfield Culinary sales representative, call 888-326-7526 or contact us for more information.
Email Recipe