Loaded Chorizo Tostone Nachos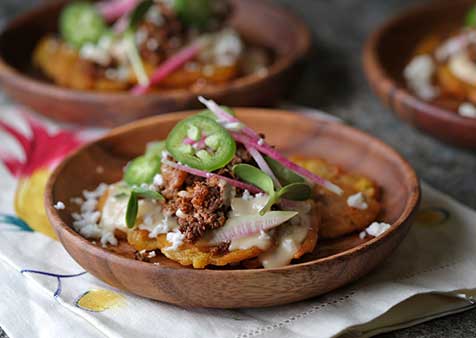 Ingredients
Pork Butt Chorizo:
1 lb. Pork Butt
1 tsp. cumin seed
1 tsp. coriander seed
2 bay leaves
5 whole cloves
1/4 tsp. ground cinnamon
1/2 tsp. oregano
1/2 tsp. thyme
1 Tbsp. granulated garlic
1 tsp. kosher salt
5 whole peppercorns (or 1/2 tsp. ground black pepper)
2 Tbsp. ancho chili pepper
3 Tbsp. apple cider vinegar
Cheddar Dipping Sauce (recipe follows)
2 Tbsp. unsalted butter
1/2 medium-sized onion, diced
2 garlic cloves, finely chopped
2 Tbsp. flour
1 cup milk
1/2 cup chopped cilantro
3 cups white cheddar, grated
3 cups Monterey Jack cheese, grated
1/2 cup sour cream
1/2 Tbsp. salt
Tostones:
2 cloves garlic, finely chopped
1/2 lb. unsalted butter, softened
1 tsp. salt
1/2 tsp. pepper
2 unripe plantains
Vegetable oil
To plate:
1 lb. fresh Pork Butt Chorizo (recipe above)
Cooked Tostones (recipe above)
1/2 cup White Cheddar Sauce
1/2 cup queso fresco
1 jalapeño, thinly sliced, seeded
1 Roma tomato, diced
1 red onion, thinly sliced
1 watermelon radish, julienned
1/2 cup sunflower sprouts1 lime, quartered
1/2 cup guacamole
Details
Product:
Pork Butt
Meal Course:
Dinner, Lunch
Dish Type:
Appetizer
Preparation
Grind cumin seed, coriander seed, bay leaves and cloves using spice grinder. Add remaining ingredients, except pork butt and vinegar, and combine everything well.
Using meat grinder, grind pork butt to medium grind.
In large bowl, combine ground pork with vinegar and 1/2 the spices.
Mix ingredients for 30 seconds, being careful not to overmix. Add remaining spices.
Allow mixture to rest for at least 30 minutes (best to rest over an hour).
Cheddar Dipping Sauce:
Melt butter in saucepan over medium heat, add onions and cook for 5 minutes or until tender.
Add garlic and cook for 1 minute more.
Whisk in flour and cook for 30 seconds. While whisking, pour in milk and continue to cook until sauce is thick, approximately 3 minutes.
Stir in cilantro and reduce heat to medium-low.
Slowly add in cheeses, 1/2 cup at a time until they have completely melted. Stir in sour cream and salt. Serve warm.
Tostones:
In small mixing bowl, combine garlic, butter, salt and pepper. Mix together until smooth.
Peel plantains and cut into 1-inch-thick slices.
In deep frying pan, heat oil and fry plantains until golden. Remove from fryer. Flatten plantains using a mallet or flat-surfaced cup.
Place flattened plantains back into fryer and fry until deep golden brown. Approximately 5-7 minutes.
Remove plantains from oil; shake off excess oil. Toss them with 1 Tbsp. garlic-butter mixture. Season with additional salt and pepper.
To plate:
Heat small pan over medium heat, add chorizo and stir to break into small pieces. Cook until brown, drain off excess oil and hold warm.
Arrange cooked tostones on large platter and place into preheated oven at 350°F to warm through for 3-5 minutes.
Remove from oven, top with cooked chorizo, drizzle with cheddar sauce. Top with queso fresco, sliced jalapeños, diced tomatoes and sliced red onions.
Garnish with julienned watermelon radishes and sunflower sprouts.
Serve with fresh lime wedge, guacamole and remainder of cheddar sauce.
To order, contact your Smithfield Culinary sales representative, call 888-326-7526 or contact us for more information.
Email Recipe