Mediterranean Back Ribs with Pomegranate Sauce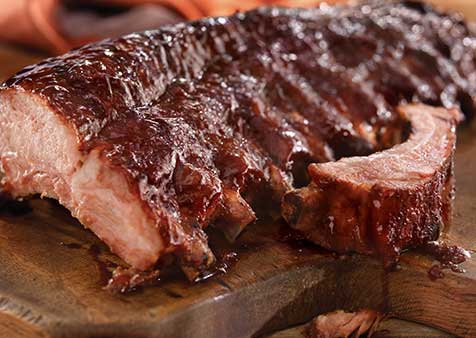 Ingredients
5 pounds Extra Tender Back Ribs
1 Tbsp. kosher salt
1 tsp. black pepper, freshly ground
1 16-oz bottle pomegranate juice, 100%
2/3 cup ketchup
1 Tbsp. molasses
1 tbsp. soy sauce
2 scallions, white and green parts, chopped
2 cloves garlic, minced
Details
Product:
Ribs
Meal Course:
Dinner
Dish Type:
Entrée
Preparation
Season ribs with salt and pepper.
For a charcoal grill, prepare an indirect medium-hot fire with drip pan in the center. For a gas grill, heat grill to medium and turn off burners directly below where ribs will go.
Lightly oil cooking grate. Place ribs over indirect heat (over drip pan or unlit burner). Close grill hood and cook until ribs are tender, about 1 1/2 to 2 hours. (If using charcoal, add more charcoal briquettes to fire, if necessary, to maintain grill temperature of about 325°-350° F.)
Meanwhile, bring pomegranate juice to a boil in medium saucepan over high heat. Boil until thickened and reduced to about 1/3 cup, about 15 minutes.
Stir in ketchup, molasses, soy sauce, scallions and garlic. Bring to a simmer.
Cook, stirring often, until slightly thickened, about 5 minutes.
During last 20 minutes of cooking ribs, baste ribs with sauce. Ribs are done when meat pulls away from the bone.
To order, contact your Smithfield Culinary sales representative, call 888-326-7526 or contact us for more information.
Email Recipe