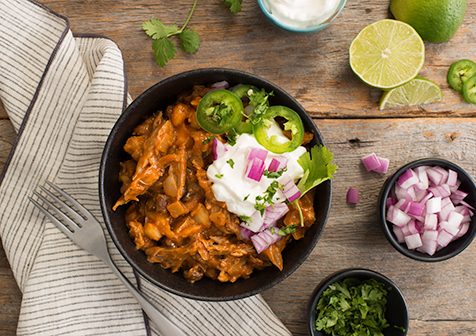 Ingredients
5 lb. Extra Meaty Pork Neck Bones, thawed
1 gallon cold water
1 tablespoon salt
2 tablespoons dried oregano, divided
2 teaspoons cumin, divided
1 tablespoon minced garlic
1 cup diced onion
2 (29-oz.) cans hominy, drained and rinsed
1 (28-oz.) can chile colorado or red enchilada sauce
1 (15-oz.) can black beans, drained and rinsed
Details
Product:
Pork Neck Bones
Meal Course:
Dinner
Dish Type:
Soup/Salad
Preparation
Rinse neck bones; combine with water, salt, 1 tablespoon oregano and 1 teaspoon cumin in large pot. Bring to a boil; lower heat and simmer, partially covered, for 2 hours, stirring every 30 minutes. Skim off any foam that rises to the top.
Remove neck bones from liquid; set aside. Strain liquid to remove any bones; pour liquid back into large pot. Add remaining 1 tablespoon oregano and 1 teaspoon cumin, garlic, onion, hominy, chile colorado, and black beans; stir. Simmer over low heat for 1 hour.
Remove meat from neck bones; add back to sauce. Add salt to taste. Continue cooking over low heat until desired thickness is reached.
Suggested Toppings: diced onion, diced jalapenos, chopped cilantro, sour cream and fresh lime wedges.
To order, contact your Smithfield Culinary sales representative, call 888-326-7526 or contact us for more information.
Email Recipe