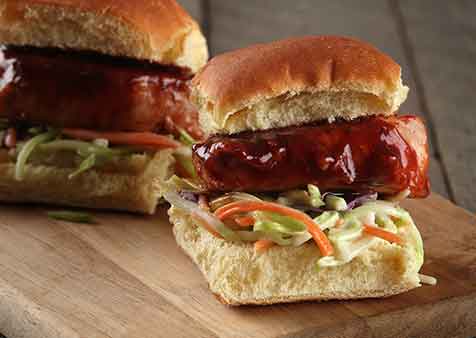 Ingredients
½ cup BBQ rub
1 bottle BBQ sauce
Broccoli Slaw, as needed
5 Hawaiian-style sweet rolls
Broccoli Slaw:
12 oz. sweet & tangy coleslaw dressing
1 packet ranch dressing seasoning
12 oz. broccoli slaw
Details
Product:
Pork Butt
Meal Course:
Dinner, Lunch
Dish Type:
Appetizer, Entrée, Sandwich
Preparation
Trim pork butt so money muscle is visible. Season with BBQ rub.
Cook pork butt in smoker at 275°F until money muscle reaches 197°F internal temperature. Remove from smoker and cut money muscle away from rest of pork butt. Continue cooking rest of pork butt for other use.
Baste money muscle on all sides with BBQ sauce. Slice money muscle into 5 equal pieces, and baste both sides of each with BBQ sauce.
Mix coleslaw dressing with ranch seasoning packet. Toss mixture with broccoli slaw.
Cut Hawaiian rolls in half and place bottoms of each on platter. Place generous amount Broccoli Slaw on each bottom bun, top with 1 piece of money muscle. Finish by placing top bun over money muscle.
To order, contact your Smithfield Culinary sales representative, call 888-326-7526 or contact us for more information.
Email Recipe